GoPro has seen wide applications, but one place it hasn't quite been to is the deep blue sea. Not surprisingly cos' not everyone is keen in taking the dive to capture some awesome underwater footages. However, with the TTRobotix TTR-SB Seawolf Submarine for GoPro, the world's most used action camera can finally reach deep into the open water to do what you can't do without putting on the scuba gear. The Seawolf (not to be confused with the nuclear-powered submarines) here is essentially an unmanned sea vehicles with high-impact ABS hull and features a GoPro mount suitable for a GoPro Hero3 or Hero4 behind the clear acrylic nose cone.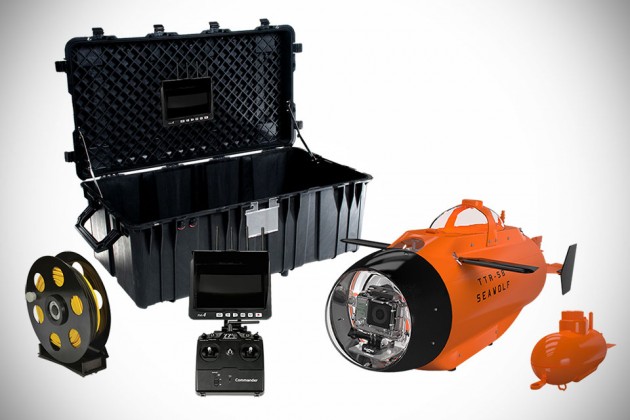 Like a real sub, it uses a pump-driven ballast system that enables it do static dives up to 10 meters (33 feet) deep and makes a top speed of 1.8 knots or 2 mph (3.3 kph). The drive system is powered by a 5,000 mAh battery good for 50 minutes of operation. In all, there are three versions of the Seawolf, classified into two categories: wired and wireless. The wired model comes with a tether when to dispense up to 30 meters of cable as the communication channel between the mini-sub and the remote control unit and also serves to relay real-time video from the GoPro to a shoreside 8-inch LCD display. The wireless option, which itself has two versions, does away with the tether cable, instead, it relies on a 10 meter cable linking between the Seawolf and a mini surface boat that can either transmits signal to your smartphone or a Bascom D4 set with an 8-inch screen.
The TTRobotix TTR-SB Seawolf Submarine for GoPro is slated for August availability, priced at $999 and up. Catch the Seawolf in action in freshwater environment in the video below.