Fans of Kamen Rider will be thrilled to know there is a new collectible that pays homage to the original Kamen Rider. Produced by Megahouse and part of its Ultimate Article line is the Ultimate Article Kamen Rider New No. 1 (50th Anniversary Edition).
The statue should not be confused with the figure that was released in 2018 in celebration of Kamen Rider's original creator Shotaro Ishinomori's 80th birthday.
The fixed pose figure is based on Kamen Rider's first appearance in the spring of 1972 in Kamen Rider New No. 1 and it may look like just the 2018 version but it has some subtle cosmetic changes, along with new gimmicks.
For the uninitiated, the Ultimate Article line is a movie masterpiece collection with screen-accurate details and impressive size. Speaking of which, this new Ultimate Article Kamen Rider New No. 1 (50th Anniversary Edition) towers at a pretty imposing 40 cm tall or about 1.3 feet.
It has a new head sculpt with a new shape and more details, including a new weathered effect on the mouth/jaw piece. It is so subtle that you'd be forgiven for not noticing the differences. While not articulated, it does come with a pair of interchangeable arm parts for switching between the superhero's famous transformation pose to his iconic action pose.
The figure further features two-level LED light-up effects – now boasting sound effects previously unavailable. Switching the switch on the pedestal to "ON1" triggers the first stage which the C-Eye and O Signal (that's the little dot between the enormous bug eyes) will light up along with the sound effect of the transformation.
Pushing the switch further to "ON2" activates a spinning light-up effect on his Typhoon transformation belt that goes from low to high speed, just like in the show. Accompanying the spinning light-up effect is the spinning sound effect followed by the familiar "Rider Action" BGM (background music) (instrumental version) that will run for around 150 seconds.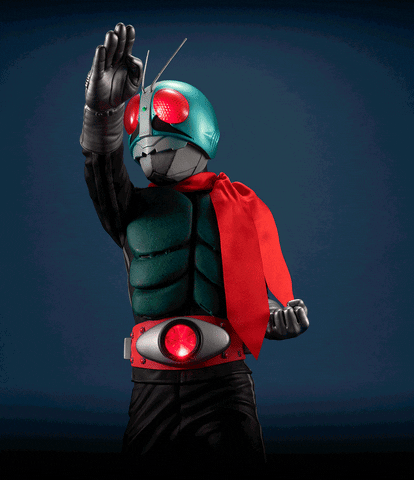 Completing the packaging is a pedestal sticker of the Kamen Rider logo as well as Tachibana Racing's emblem.
The Ultimate Article Kamen Rider New No. 1 (50th Anniversary Edition) fixed pose collectible figure is available for pre-order in Japan via Premium Bandai with an asking price of 30,800 yen (about US$212). Delivery is scheduled to happen on March 2023
Images: Megahouse.