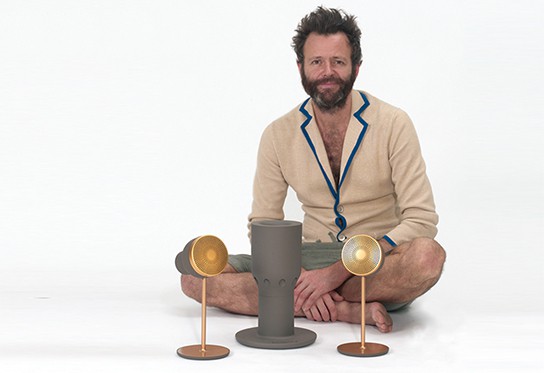 (image credit: EOps/Michael Young) EOps i24R3 Extreme Limited Edition Wireless 2.1 Digital Speaker System | US$na | www.michael-young.com
there are myriad of options for iPhone dock with speaker systems but there are nothing out there that looks like the EOps i24R3 Extreme Limited Edition Wireless 2.1 Digital Speaker System (quite a mouthful, i know), a collaboration between EOps and industrial designer Michael Young. like its name suggest it is a digital speaker system, and it is also an iPhone dock with wireless USB audio transmitter for PC/Mac that works in-sync with your iTunes Music Library, iPhone and TV audio.
[ad#Google Adsense-text-468×60]
only 60 of these are available world wide, this limited edition 2.4GHz wireless speaker system consists of a pair of wireless speakers, a wireless subwoofer unit dock and an USB audio transmitter (PC/Mac compatible). the system features the EOps-Existence digital audio signal processor enhanced soundstage technology and uses RF (radio frequency) remote control to playback music. the wireless subwoofer features a 4-inch driver and a class 'D' amplifier with 20W RMS. the docking station is located at the subwoofer, which also charges your iPhone/iPod during music playback. connectivity includes 3.5mm stereo audio jack, RCA stereo audio in/output for TV or STB and high-resolution component cable for iPhone/iPod video output.
the wireless speaker spots a pair of 3-inch drivers with class 'D' amplifier (2 x 15W RMS). it has a bass reflex tube design and has a wireless range of 18-meters. there are no other connectivity for the speakers except for its 2.4 GHz WiFi network capability and of course, the AC adapter. so its good news for minimalist and cables-haters. bridging the music to this beautiful system is the included thumbdrive-size wireless USB audio transmitter dongle. beside carrying out its duty of streaming music from your Mac or PC, it also supports iTunes Remote App, letting users control their iTunes playback from iPhone, iPod Touch or iPad. the wireless speakers has a range of 10-meters.
the last piece of hardware is the wireless RF remote control which, naturally, requires no line of sight. thus, you will still be able to control music playback even if you are in another room. of course, you gotta be within the 10-meters range. the remote gives you control over your iPhone or iPod playlist and supports album navigation, adjustment of equalizer effects and the wireless zone control (applicable to multi-room setup, see below for more details). the highlight of this system is perhaps the 'Free space motion sensor' which allows adjustment of volume and equalizer simply by waving around the subwoofer.
EOps i24R3 also features multi-room expandability, covering up to four rooms (inclusive of the original or master pair). needless to say, expansion to other rooms require user to put in more dollars by purchasing additional pair of wireless speakers. on the aesthetic department, the limited edition speaker system is housed in a two-tone casing with soft touch charcoal body and gold metal finishes. with so many one-piece speaker docks in the market, the three-piece i24R3 is certainly a refreshing change and is truly one speaker system that blends sound with design. i definitely has eyes for this over the white gross standard edition. i want one!