(image credit: Akihabara News)
you can trust the Japanese to come out with wacky ideas for what's to be sold from a vending machines. its no coincidence that the country is also known as the land of vending machines where almost anything can be bought from a vending. this huge vending that sells drinks is no ordinary vending but is it uses a 47-inch touchscreen to display images of the drinks available, instead of the traditional sample cans behind a clear perspex. this vending are operated by JR East Water Business Co., the beverage arm of the JR East group and designed by Design Studio S.
this Acure vending machine greets passer-by with friendly vertically-elongated 'eyes' while on standby mode, once activated, the screen switches to display the available drinks. sold out drinks are not display, thus eliminating the unsightly sold-out signs. the vending machine is armed with a camera above the screen which determines the age and gender of the person standing in front of the machine. the information capture is used to suggest demographically targeted drinks to the user. what the customer purchases also form the market data which is then pushed to a central management server via WiMAX. though no identifiable information are stored. oh, upon completion of transaction. the vending even thank you for patronizing it. that's what i called basic customer service!
the vending also depart from the traditional vending design by locating its dispensing slot higher off the ground so that Tokyo's population of office ladies in skirts don't have to crouch down to get their drinks. there are some useful stats from the data collected, which JR East Water Business has since reported in a press release. another interesting note is that the smart vending makes an approximate 3 times more sales than other vending machines, and there are lines of people queuing just to interact with the vending.
check out the video of the smart vending in action HERE.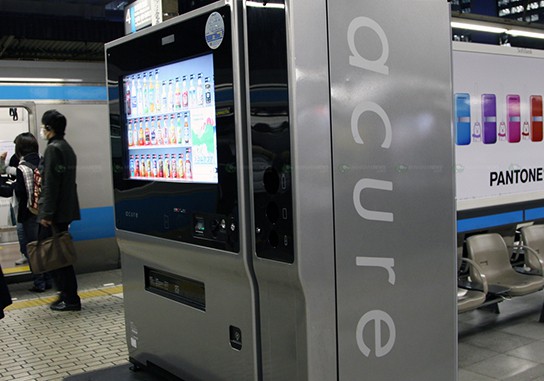 (image credit: Akihabara News)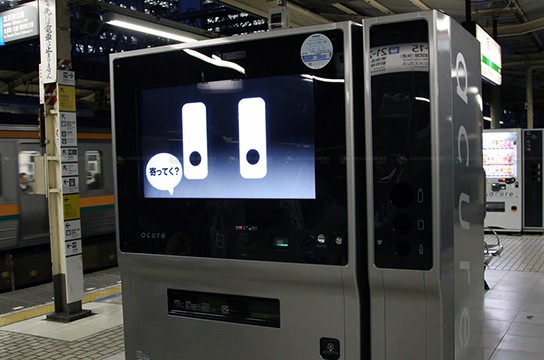 (image credit: Akihabara News)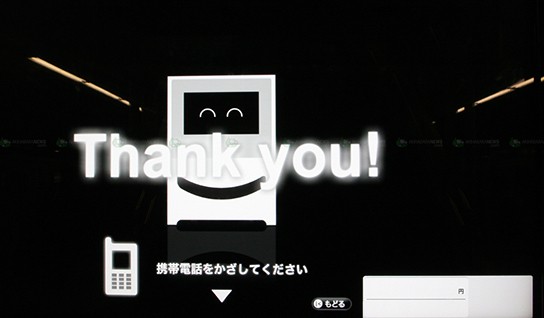 (image credit: Akihabara News)
via Akihabara News