Austin, Texas-based Virtuix is in the business of making VR games more realistic with omni-directional treadmill for moving through the virtual environments, is now planning to bring the technology to your home. Called Omni One, this consumer version of omni-directional treadmill offers 360-degree experience for incredible immersion.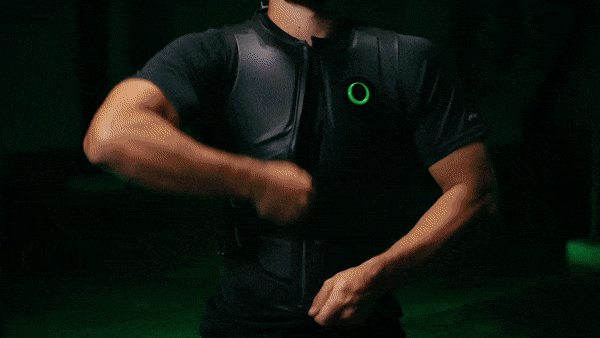 That's right folks, gaming is no longer just finger works. It is now a manual labor. This should be the end of marathon gaming session and also result in very physically fit gamers.
Though, Virtuix Omni One Omni-directional Treadmill for virtual reality game isn't new. We have seen it as far back as 2014, but this one appears to be more realistic in terms of the actions/movements you can do.
With Virtuix Omni One, you can walk and run in any direction and at any speed, jump, kneel, crouch et cetera. Basically, it is a FPS simulator.
Omni One is a complete entertainment system that comes with a standalone VR headset and therefore, there's no cable to hinder your movement.
Measuring 4 feet in diameter, it comes with an articulated arm with a wearable vest attached. In someway, it looks like an action figure stand, but for real person which is kind quirky if you think about it.
Anywho, Omni One, which is a consumer-grade version of the company's commercial model Omni Pro, will work straight out-of-the-box. So, it is kind of like a video game console itself.
The rig will feature its own game store with 30 titles at launch, including Call of Duty, Fortnite-style games developed by Virtuix.
Virtuix is aiming to release Omni One in Q2 2021 and when it becomes available, it will retail for US$1,995.
Meanwhile, Virtuix is launching a Regulation A funding campaign as part of the marketing campaign. As an investor, you can enjoy up to 40% discount. If you are interested, you can learn more HERE.
Images: Virtuix.