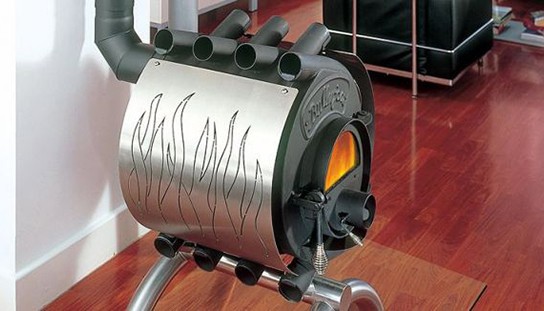 (image credit: Bullerjan) Bullerjan Furnace | from US$2,000.00 | www.bullerjan.com
we never thought wood burning hot air furnace still exists, not to mention it could look so good. the Bullerjan Furnace has eight pipes on each of the top and the bottom sides, which reminiscent of a V8 engine. the bottom eight pipes draw in cold air, while the eight pipes on the top throws out hot air, giving you the warm for this cold winter season. the Bullerjan is also known as Free Flow hot air furnace, was reportedly developed by Canadian lumberjacks.
hot air and the apparent similarity to a V8 engine aside, the Bullerjan is available in six capacity sizes ranging from 6 to 45 kW and has accessory, in the form of enclosure, to go with it. though it looks awesomely cool, and probably complements the V8 muscle car in your garage, i won't be needing this anytime of the year. sad. do they have one that generates cold air instead?
via Core77