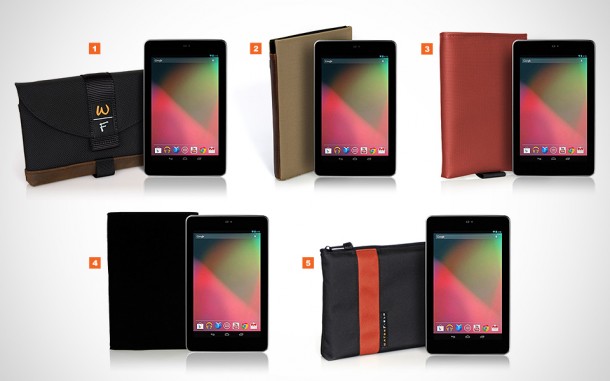 WaterField Designs Nexus 7 Cases | from US$19.00 | www.sfbags.com
until Amazon actually announces its Kindle Fire successor (or successors), Google Nexus 7 tablet is perhaps the hottest tablet at this moment. with orders overwhelming its supply, it is natural that accessories for this gadget will flood the market in no time. Waterfield Designs is among the first to kick off a series of Nexus 7 Cases, based mainly on its existing line of proven protective cases/sleeves for other mobile gadgets.
1. Nexus 7 Ultimate SleeveCase (from $59)
starting with the Nexus 7 Ultimate SleeveCase, a water-resistant sleeve that features shock-absorbing neoprene, wrapped by a ballistic nylon shell and a screen-cleaning Ultrasuede lining on the inside, ensuring a complete protection for the Nexus 7. also included in this case is a screen-protecting plastic insert that keeps your screen from impact damage. the Ultimate SleeveCase is available with the option of Lead Iridium or leather trim (+ $5) and two flavors of shoulder strap ($12 and up).
2. Nexus 7 Smart Case ($59)
next up is the multilayered padded Nexus 7 Smart Case that has a water-resistant nylon exterior, good amount of padding with an impact-resistant, screen-protecting insert , an Ultrasuede inner lining, and a beautiful design with no visible stitching. additionally, Smart Case features a low-profile pocket for holding your sync/charging cable and power adapter.
3. Nexus 7 Slip Case ($29)
for those who prefer something a little more minimalist, the Nexus 7 Slip Case is the one to go with. it has a thin but yet plush design, padded interior, and a screen-protecting, impact resistant insert. a bottom tab is in placed to aid easy remove of the tablet from the sleeve. perfect for those who intend to stuff the tablet in a larger bag along with other belongings.
4. Nexus 7 Suede Jacket (from $19)
the Nexus 7 Suede Jacket is the simplest of the lot. it is a snug-fitting, scratch-free, Ultrasuede sleeve with an extremely low-profile and because of the nature of its material, it can double as a screen cleaner too. available with or without an additional external pocket.
5. Nexus 7 Travel Express (from $59)
last but not least is the Nexus 7 Travel Express and as the name implies, it is a bag designed to let you haul your Nexus 7 tablet along with other essential stuff such as cables, power brick and other accessories when you hit the road. the exterior is of ballistic material and features a rigid plastic insert to protect your tablet's screen from impact and separate compartments for your other essentials. the Travel Express is available in a choice of colors, including a Muzetto Brown Leather version (+ $10) and option between two types of shoulder strap ($12 and up).