you know how folks like Urbanears have been promoting music sharing legally by allowing two pairs of cans to daisy chain to one another? well, this duo of ex-Berkeley engineering students, collectively known as Wearhaus, takes that concept further with the Wearhaus Arc, by allowing you or whoever in the vicinity to share what you or they are listening wirelessly via Bluetooth. the audio sharing is made possible through a proprietary Bluetooth mesh network and with it, you can choose to broadcast to any nearby Arc user, friends only, or disable music sharing altogether. it works with a companion app, available for iOS and Android, allowing you to see what other Arc users around you are listening (assuming they opt to broadcast this information) and sync your Arcs with theirs if you so desire. we are not sure how well this will work out with complete strangers, but we have no doubt friends will have a blast doing so, which could be a refreshing alternative to blasting out with a boombox.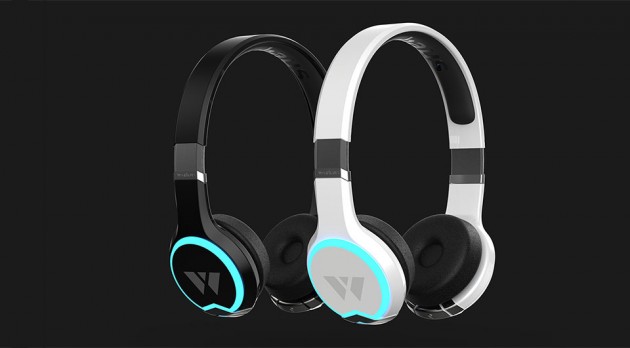 on each earcup is a backlit ring that has user-settable color, achieved through the mobile app. this light is also a visual cue of who's listening with you as those tuning in to your music will have the same color of light. it is a bit of a fancy thing, but i guess when you are really sharing, you will also wants to know how many are tuning in – that is, assuming the whole bunch of people are using the same device. you will also find a capacitive touch panel built into the earcup for music control, as well as sharing using simple gestures. on the hardware aspect, it has 40mm dual diaphragm drivers to deliver the audio reproduction, noise isolation, built-in microphone, memory foam cushions and a battery pack providing up to 16 hours of standalone playback, or 10 hours with sharing feature enabled. it offers up to 30m (99 feet) of Bluetooth range, while wireless audio transmission quality is assured by Bluetooth 4.0 with aptX. in the event that the battery conks out, there is a cable to ensure the continual functioning of the audio cans, albeit without the sharing functionality.
the duo is running a funding campaign via their own website, wearhaus.com, seeking to raise $75K to take this from prototype to reality. from now till end of May, you will be able to back up this product for a special price of $150. the outfit expects to ship the Arcs by this holiday season.