There are a lot of people into backyard railroad, or garden railroad, but I have a feeling that no one does it like Zack Peterson. Zack's replica of an 1800s railroad trestle is set in his home's backyard somewhere in the woods of western Sonoma County in Northern California and given the vastness of the place, there's no reason why he can't build an awesome railway trestle. I mean, it has just the right setting and possibly similar environment to which 1800s long distance rail was set in. Too bad it didn't carved into mountains cos' that will be impossibly cool.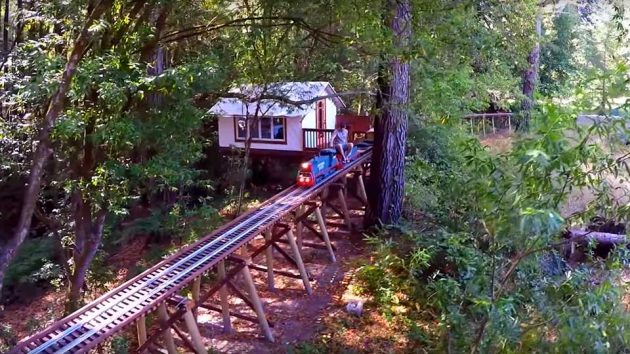 The undulating terrains where the railroad was built on offers gazillion of opportunities for trestles to be built which seems to go on forever. And the scaled train, which comes with cushioned bench seat on one of the car and it even have a couple of open bed cargo cars too. This totally what I will do if I too much money and time at hand cos' apparently, it took Zack a year to design and build this "world record longest backyard railroad trestle." Though it is not known how much Zack had plonk in for this brilliant project. Continue reading to catch the video of the "Southern Pacific" cruising along railway amongst a magnificent scenery.
P.S. If you are drawn to the music, well, the track is called Epic Cinematic Trailer by BeepCode (less the vocal).
Images: screengrabs from Jon Stychno's YouTube video.
via YouTube