There are really nothing much to write about writing instruments unless they are carved out of gold, embellished with pen load of gems, and they command an astronomical price. The Ystudio Copper and Brass Writing Instruments you see here is not cast of precious metal, neither are they loaded with rare stones. While we can't say they are cheap, they are certainly not in the ridiculous price range. So what are they? They are just some ridiculously good looking pens and pencil that wants you to feel the joy of old school writing again. There are five flavors to choose from: two variety of rollerball pen, a ballpoint pen, a mechanical pencil and a sketching pen. All the writing instruments share a common design language: a minimalistic hexagonal body that does without clip and are made out of brass, along with some copper and phosphor bronze.
In most instances, the combination of the metal and hexagon would immediately lend it the unmistakable industrial look, but not Ystudio's pens. The brass's yellowish nature, together with the raw finish, offers another design perspective which we never thought possible: classy industrial. It feels like luxury (perhaps it is?) and at the same time, feels so raw and powerful like an industrial object. No weight was given for the products. Ystudio only says the pens are of "properly cut weight" providing the writing instruments with "a smooth and steady feel when writing."
The Ystudio Copper and Brass Writing Instruments are available through kohezi.com, priced at 70 euros and up (about US$78 and up). Like I said, we can't say they are the cheapest designer pens, neither are they crazy expensive. If style is a requisite in your life and not an option, then we are pretty sure these pens and pencil will fit the bill.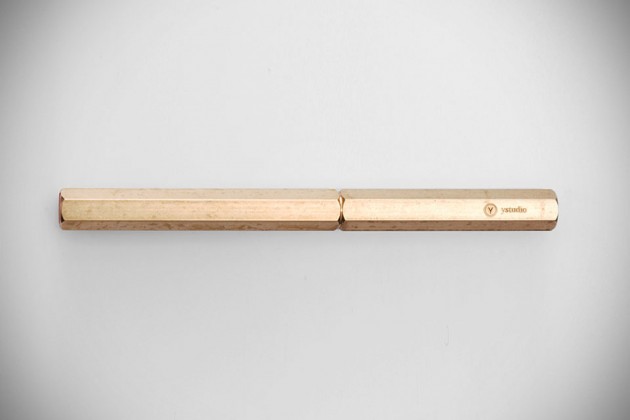 submitted via TIP US page.