if there is one truck to get in this automobile filled world, Unimog is the go-to truck of choice and not just any Unimog, but one that was part of the history of automobile. we are talking about the 1976 Mercedes-Benz Unimog 406 Doppelkabine 4×4 Utility Truck that is destined to go under the gavel on July 12, 2014 at the The Mercedes-Benz Sale, organized by auction house, Bonhams. if you ask me, this 1976 example doesn't not even look dated. i mean, we know it is old, but we didn't expect it to be nearly four decades old. that's like almost as old as… m… never mind. we shouldn't be disclosing age here, should we? naturally, when it first went into service as an aircraft tug in the German Army, it wasn't drape in olive green and black; the present owner has given it a respray to look more 'civilian', which looks pretty awesome if you ask me, though we thought, matte sand colorway will be totally rad.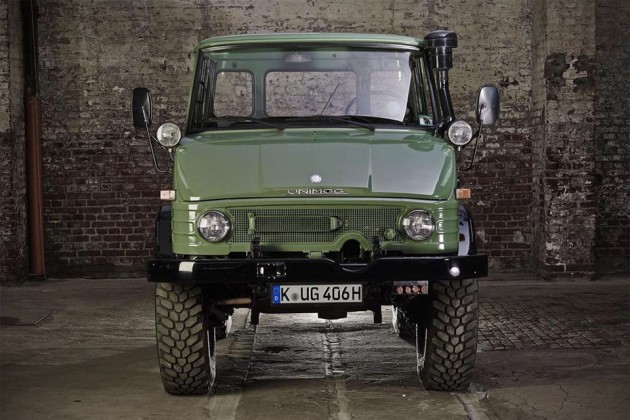 powered by a 85 bhp diesel engine, this is the variant that sits on a shorter wheelbase, has a matching olive green refurbished seats, sits five and has new wheels and tires. and since it practically spent its 'youth' in aircraft hangers, this particular example has an admirable rust-free body, which is a rarity for the vehicle of this age and it has around 3,300 hours of engine running time to boot – effectively making it a young, old classic truck. other notable features include a converter clutch, power take-off (PTO) shaft at the front for additional gear, 'Schmidt' plate for attaching other tools like snow plough, front loader et cetera, ball-hitch tow-bar, rear cargo space, front and rear safety seat belts, original speedometer (detached, unfortunately) and Webasto vehicle heater that was retrofitted back in 95′.
the 1976 Mercedes-Benz Unimog 406 Doppelkabine 4×4 Utility Truck will go under the hammer on the 12th, which is like tomorrow, and Bonhams is expecting this fine example to fetch between €40,000 and €50,000 (around US$54,000-$68,000).