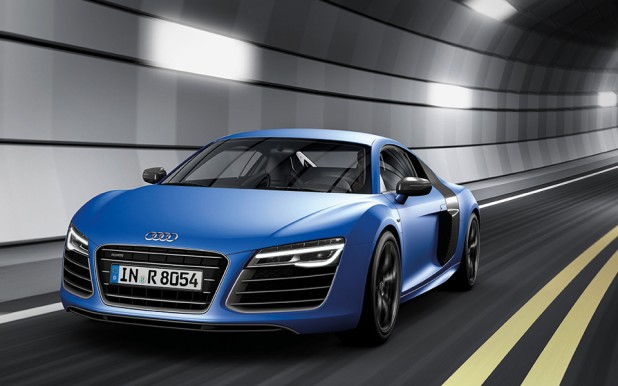 2013 Audi R8 V10 Plus | €173,200.00 | www.audi.com
do you really need to make a good car even better? maybe, you do. it is something that needs to be done even if it means the change will not be immediately noticeable to untrained eyes, or rather, we should say that with lines like the R8, you would not even care. it is just a beauty and that's that. anyhow, Audi has done it again, giving its R8 some refreshing – all together there are five variants but only one caught our eyes: the flagship model, Audi R8 V10 Plus. powered by a 5.2-liter V10 unit that pumps out 550 ponies (404 kW) and 540 Nm (398 lb-ft) of torque, the Plus variant received an all new 7-speed S-tronic transmission that rockets from standstill to 100 km/h (62 mph) in just 3.5 seconds and on its way to an insane top speed of 317 km/h (197 mph).
for a cool sum of €173,200 (around US$212,343), the Plus gets several upgrades and new features, including some features that are option-only to other variants. some of the features include generous use of carbon fiber reinforced plastic (CFRP) for its front splitter, mirrors, side blades, large rear diffuser, lateral air inlets and partial engine compartment lining, new bumper and grille, new circular tailpipes in black finish, redesigned LED headlamps and taillights with dynamic display indicator light (see it in action in the video below), LED illuminated engine compartment, specially tuned suspensions, magnetic ride adaptive damping, huge 19-inch alloys in black gloss, carbon fiber ceramic disc brakes, and an ESC that can be fully deactivated. on the inside, diamond-stitched fine nappa leather, quilted upholstery, bucket seats with enhanced lateral support, navigation system plus and Bang & Olufsen Sound System greets the driver and the passenger.
coming to Europe end of this year, which leaves you little time to accumulate your cash for one. hit the jump for some larger views, plus a video of the 2013 Audi R8 in action.
via Autoblog