there are reasons why convertibles are hardly high powered rides. chopping off the top often means sacrificing structural integrity. not that it can't be done. it can, but at the expense of increase in weight which no self-respecting car makers or motoring enthusiasts would approve of. however, with the advancement in technologies, the holy matrimony between drop top and massive horsepower becomes a reality, as proven by the 2015 Chevrolet Corvette Z06 Convertible, which not only loses the roof in favor of an electric fold-top, but also comes standard with 600 crazy horsepower pumped out by the 6.2-liter supercharged V8 engine. it is the same power plant found in the coupe variant, which means it has the same jaw-dropping 635 lb-ft (860 Nm) to offer too.
with that kind of torque on the tap, you would most certainly need a seriously rigid chassis to deal with – unless twisted metal is what you are after and i am guessing nobody wants that. here's what Corvette chief engineer Tadge Juechter has to say about this development:
Until recently it was not possible to create a lightweight, open-roof structure strong enough to cope with the braking, cornering, and acceleration of Corvette's top performance models… the frame for the Z06 convertible leverages advancements in computer-aided engineering, metallurgy, and manufacturing techniques – many of which were not available just five years ago.
in fact, the technological development has allow the new droptop's aluminum structure to be 20 percent stiffer than the coupe – all without the need for structural reinforcements, resulting in a curb weight similar to the Z06 coupe. this also allows Chevrolet to introduce the same chassis tuning, driver technologies and equipment options such as the Z07 Performance Package, into the 21st century open top muscle car. a nice feature would be the top can be lowered remotely using the car's key fob and it can be open or close while the car is in motion at not more than 30 mph (50 km/h). additionally, the fold-top combines thick fabric top with sound-absorbing padding and a glass rear window to keep the noise out of the cabin for a quieter ride.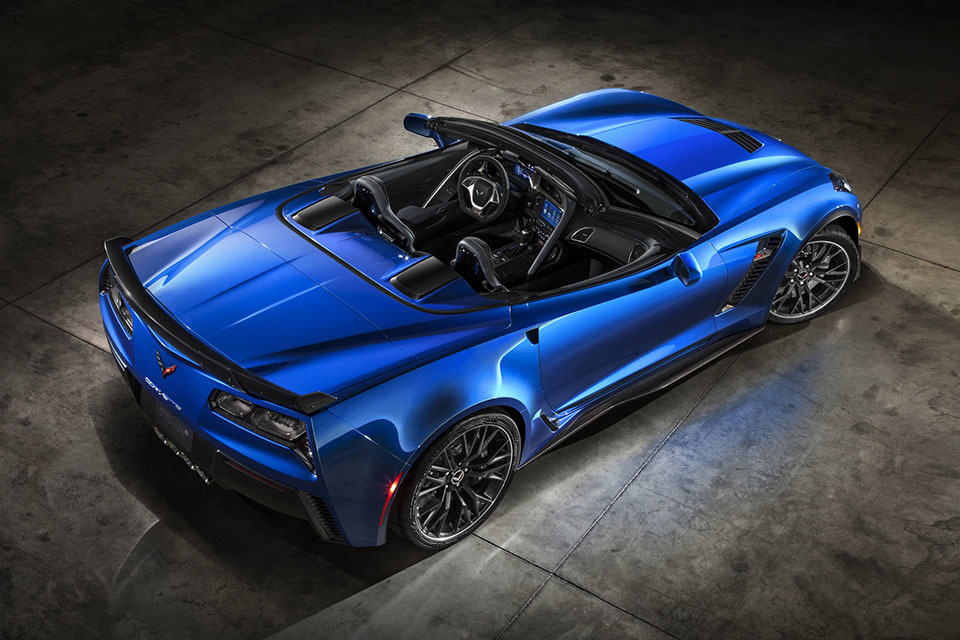 other key features include lightweight, spin-cast aluminum wheels (19-inch front; 20-inch rear) wrapped in Michelin Pilot Super Sport tires, seven-speed stick shift or eight-speed paddle-shift auto gearbox, Magnetic Selective Ride Control dampers, plus a bunch of handling features to enhance the driving experience. no word on the pricing and availability, but it will be showing off its stuff (probably a lot of opening and closing of the roof) at the upcoming New York International Auto Show.