If you are a self-profess hardcore MINI enthusiast, we suppose nothing will appease you other than a top-ranging model and in this respect, we trust that you know John Cooper Works is the model you will be after. If so, the British marque has good news for you: the top-spec John Cooper Works has finally been unwrapped ahead of next month's Detroit Auto Show and adding to the joy (that's if you're a massive fan), the latest reincarnation that bears the lauded JCW badging is the most powerful production MINI yet, clocking in at 228 horsepower with 236 lb-ft of torque, squeezed out of its 2.0-liter four-cylinder unit with MINI TwinPower Turbo Technology. That's a good 10 and 23 percent increase in power output and torque over its predecessor.
It will come standard with a six-speed stick shifter, which sees this upsized compact hatch making the century mark in a tad quicker at 6.3 seconds, or 6.1 seconds on the optional six-speed Steptronic sports gearbox, while top speed is pegged at 153 mph (246 km/h) for both transmission types. It might be the most powerful MINI to date, but in retrospect, we can't help but to feel a little disappointed here. You see, we are kind of expecting more than just a 10 percent bump with a 2.0L unit for obvious reasons. Anyways, our personal gripe aside, it is still lovely ride.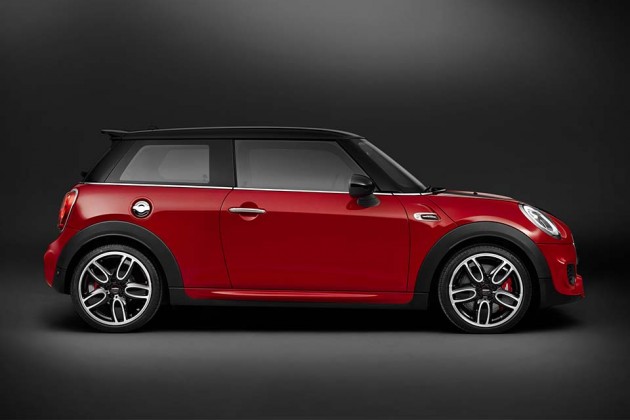 There is also new suspension setup to complement the new found power and torque, along with newly developed Brembo sports brake system, exclusive 17-inch JCW Race Spoke light alloy wheels, electromechanical power steering with Servotronic, a handful of handling enhancements, and the mandatory JCW badging. Naturally, it also gets model-specific design and equipment, including aero kit, LED headlamps with white turn indicators, distinctive contour wheel arch surround, sports exhaust system with special tailpipes, and a new exclusive Rebel Green paint option.
The inside also receive its fair share of 'exclusivity' with a slew of JCW items, including sports seats, entry sills, multifunction steering wheel (with paddle shifter for six-speed Steptronic sports transmission), and gear lever (or selector lever). You can also expect to find stainless steel pedals and footrest, anthracite roof liner, and more in the cabin. Look out for it when it rolls into your local dealer sometime in Spring 2015. Scroll down to steal a few more awesome look.