There is no doubt that a good truck like Tundra is tough, but when it comes to really serious off-road duties, you'd better soup it up so it is prepared to take on whatever comes in the Tundra's path. In that respect, we'd suggest that you leave it to pros at truck tuning specialist like Devolro to turn a Tundra into the master of the beaten paths. Devolro deals in making off-road specialty equipment and has its own tuning studio that rolls out vehicles with superior off-road capability, and the 2015 Toyota Devolro Diablo Line-X Black Edition is one of their latest creations. One look at it, it makes our knees weak. Just look at this matte black finish example and that's just the start. If you think not that it is a beauty, then you're probably not into leisure trucks. Period.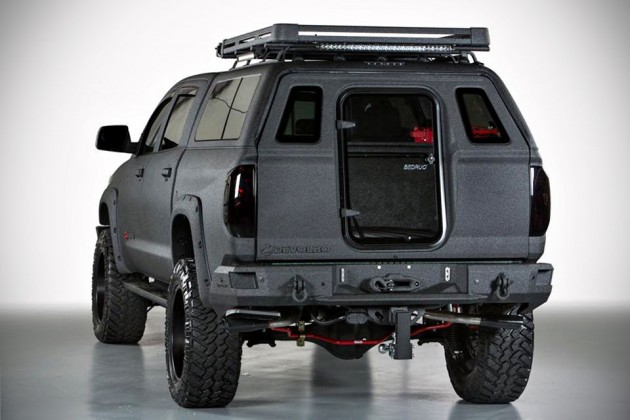 What exactly goes into the Line-X Black Edition is not clear, but according to Devolro, this matte black beauty packs a cool 650 horses, which is at least 100 ponies more than the outfit's other variations. Torque figure is not disclosed, though we're speculate that it should have over 500 lb-ft, since the other editions that run at 550 hp, wrings out 500 lb-ft. As for the level equipment, they are not clear too, but as far as tech specs are concerned, the Diablo Line-X Black Edition should be same with the rest of the lineup, which includes 6-speed Electronically Controlled automatic transmission with Intelligence, FABTECH 6″ Performance System with Black Dirt Logic 2.5 Coilovers and Rear Dirt Logic Shocks, Warn 9.5cti winch, and TOYO Open Country tires. Armoring option is also available too, in case you expect yourself to be a target of assassination or such.
On the inside, expect some serious luxury treatment including the obligatory handcrafted leather upholstery, carbon fiber inserts (lots of them) and premium sound system matched to the entertainment system, customizable to your desire. Price-wise, we couldn't be sure, but it is safe to expect it to cross over the $200K mark. Unfortunately, that's all we know for now. If you're all up for a serious off-roader, then you might want to touch base with the folks at Devolro to find out more.