December 3, 1994 was a significant day in the history of gaming. It was the day and year of the launch of the original Playstation which yours truly happened to had one. Man, am I that old already? 20 years on, the world famous, if not the most iconic game console, has heralded four generations with seven models under their belt. Along way, two generations of Playstation Portables injected the timeline. So yeah. Playstation has come a long way and it is indeed a big deal for both its creator, Sony Computer Entertainment and fans. And as such, it is only natural for Sony to mark this grand day with the announcement of a very special Playstation 4 20th Anniversary Edition.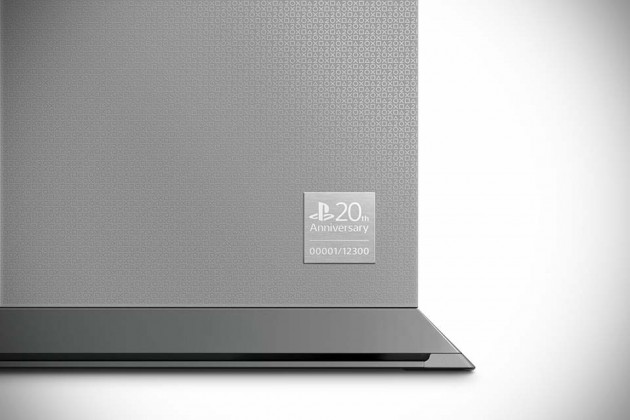 Paying homage to the original Playstation, the special edition PS4 gets coated with a nostalgic original gray, along with subtle details like the endearing multi-color Playstation logo, strategically stuck on the console, as well as the DualShock 4 and the camera, and tiny etchings of the now iconic controller buttons symbol with each symbol joined by a '2' as a nod to the 20th anniversary. The same etching can also be found on the DualShock 4's touchpad too. These special edition PS4s are individually numbered and strictly limited to 12,300 units worldwide to reflect the original December 3 launch date of the original console that started it all.
If the gray paint job doesn't remind you of its rarity, perhaps an aluminum plate, located at the lower right hand corner of the console, engraved with the number should serve as an another subtle reminder that you're among the 'elite' 12,300 out of over 7.2 billion beings on this planet to own one. Wrapping up this special edition package includes a vertical stand in matching color and special anniversary box. Apparently, the sets allocated to U.S has all been snapped up during the pre-order on December 6, but France's Colette has 500 units to let go and will be available exclusively in-store at Colette, Paris on December 19 at 11AM.
However, if you still fail to grab one by then, all we can say is that your odds of getting is pretty much next to zero. But don't feel dejected. It is, after all, still a PS4 only with a throwback feel. I am sure most of us can live with either a white or black set, right?