We're not going to dig into whether the two separate announcements of fuel cell car by the two auto giants were coincidence or intentional. In our previous article, you learnt about Honda's plan for a 2016 fuel cell-powered ride, and on the same day, Toyota also made its FCV official, giving it a name and sticking a price tag on it. It is called Mirai, which literally means 'future' in Japanese. I guess they should consider changing it to 'near future', because fuel cell car Mirai is slated to go on sale or lease in California beginning fall 2015. What's making the Mirai an attractive zero-emission alternative to the draggy takes-forever-to-charge electric variant is obvious: the range and the refueling time. The Mirai has a range of 300 miles and refuels in under five minutes. Additionally, it also touts a drivetrain with performance that rivals, if not better, today's mid-size sedan.
According to Toyota, Mirai's electric drive system puts out a good 153 horsepower, which is enough to take the electric sedan from standstill to 60 mph (97 km/h) in 9-second flat. On paper, Mirai, or rather, fuel cell-powered vehicle on the whole, indeed provides a much more attractive proposition to plug-in electric. And if all that have been promised works out, we suspect fuel cell might signals the end of plug-in electric. I am sure some will dispute (more likely those who have bought a Tesla), but you sure can't argue with charging time and range. But don't get us started. Anyways, the Mirai will also be offered with an optional power take off device (PTO) which, like Honda's external power feeding function, allows Mirai to serve as a mobile generator to supply electricity in time of emergency. Clearly, something a battery-driven electric ride can't or will ever do.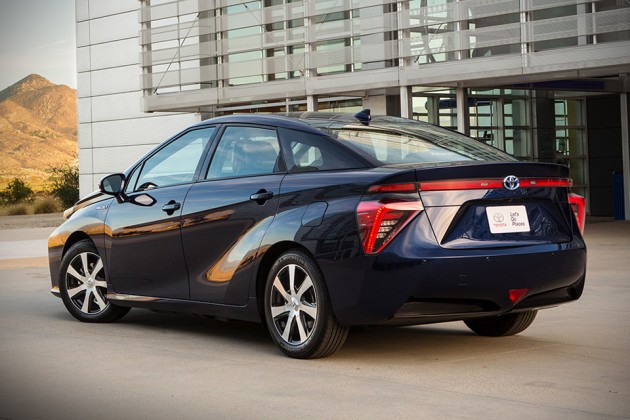 As for the price, you will be able purchase the Mirai fuel cell car for $57,500 (ouch!) or go with the $499 per month/36 month lease option, with $3,649 due at lease signing. Of course, the former is before the combined state and federal incentives of $13,000. Finally, Mirai owners will benefit from Toyota's 360-degree Ownership Experience with services like 24/7 concierge service (answered by dedicated fuel cell rep, no less), 24/7 enhanced roadside assistance, three years of Toyota Care maintenance and more. It is still a while until Fall 2015, so there is still a bit of time for you to save up for the zero-emission ride and also (hopefully) for hydrogen refueling stations to start popping up, or at least have existing stations retrofitted to supply hydrogen.