The Ferrari Sergio is not for everyone. Firstly, it is not a mass produced luxury sports car and secondly, the design kind of detracts from Prancing Horse's norm. If you think its ugly, then be thankful that there are, or should say, were only six made, all of which have been spoken for. The first of the six was delivered to SBH Royal Auto Gallery at Abu Dhabi's Yas Marina Circuit. For the uninitiated, Yas is where the Finali Mondiali Ferrari was staged and also home to the Ferrari World theme park. From its moniker, it is obvious who penned this two-tone luxury beast. That's right, it is Pininfarina. In case you're still clueless about the link, the car is so named as a homage to the late Sergio Pininfarina and it is a ride that marks the 60th year of collaboration between the Cambiano-based car design firm and coachbuilder and Ferrari.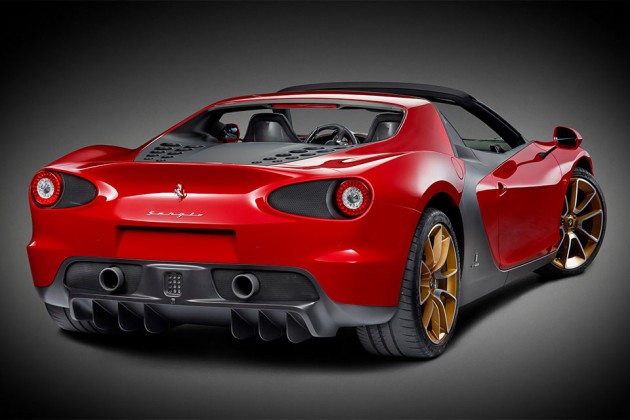 Ferrari described it as a "genuinely radical car" and really is. The profile is a little 458ish that's because it is based on the 458 Spider, but apart from that, it is very different from what you would expect from Italian automaker and the Italian coachbuilder; it looks pretty ostentatious, if you ask us and it all began with a "split-up" design where the rear and front appears to be separated and melded together by black panelling, followed by a backend that looks slightly crankier than usual and then there are the diamond-finish gold Sergio-specific forged wheels. Normally, a Ferrari turns head with its sleek, nonconforming aesthetic, but this one turns head by being really, really loud in the looks department. People will be like "Woah. A two-tone Ferrari? Couldn't be factory thing, could it?" At least, that's our reaction when first saw the press images.
Putting aesthetic aside, the one thing we cannot ignore is the grunt it has under the hood which comes from a 605 ponies variant of the naturally aspirated 4,497cc V8 unit that will propel this red-and-black steed from standstill to 62 mph in 3 seconds flat. Other worthy mentions include a front spoiler that strikes a balance between downforce and heat exchange, roll bar with integrated air intake for the clutch and gearbox, negative rear window, circular taillights, two-tone hood, and a rear hood with signature Pininfarina circular air vents. To be fair, a lot details on this car is tailored to the customer request, to which we can only says it is of an "acquired taste".