If you haven't already heard, there will be a new Nissan GT-R in town this summer. First unveiled at this year's New York International Auto Show back in March, the 2017 Nissan GT-R sports coupe received a series of enhancements on the outside, the inside, as well as under the hood. Under the new hood is a hand-assembled 3.8L V6 DOHC twin-turbocharged motor that churns out 565 horses and 467 lb-ft of torque (a bump of 20 hp and 4 lb-ft from the 2016 model), mated to a "thoroughly refined" 6-speed dual-clutch gearbox that puts power to the tarmac through all four wheels. As far as look is concerned, we thought it looks, well, very GT-R.
However, the Japanese automaker begs to differ, stating that the 2017 iteration has the most significant changes since its introduction in 2007. To be honest, our stand remains; it is still very GT-R as you know it. We wouldn't call it radical. Radical, in our humble opinion, is a total departure from the norm, which obviously is not the case. Exterior details include a new "V-motion" grille which is larger to let in more air into the engine bay, a newly designed (and of course, functional) spoiler lop and front bumpers with finishers, a redesigned side sills that direct air flow around the car, a new rear bodywork with functional side air vents, found next to the car's quad exhaust tips, and a taller lower black section for a wider and aggressive look.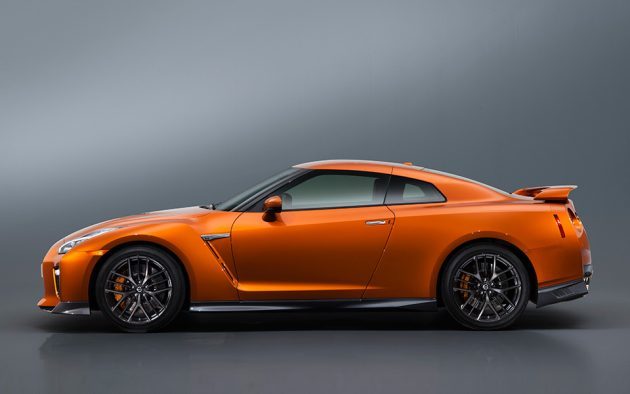 On the inside, it has a sporty setup expected of such a car which includes a new "horizontal flow" dashboard with hand-selected Nappa leather-wrapped instrument panel. Cockpit-style remains as standard to create a driver-centric environment when the driver is in the hot seat. Additionally, the interior also boasts improved comfort but lighter front seats, improved and simplified center dash layout, reduced number of switches (thanks for remembering that this is not an aircraft) from 27 to 11, a larger capacitive touch display that affords larger icons for legibility, and steering wheel mounted paddle shifter with "reengineered ventilator controls for improved feel ad sound when engaged or adjusted."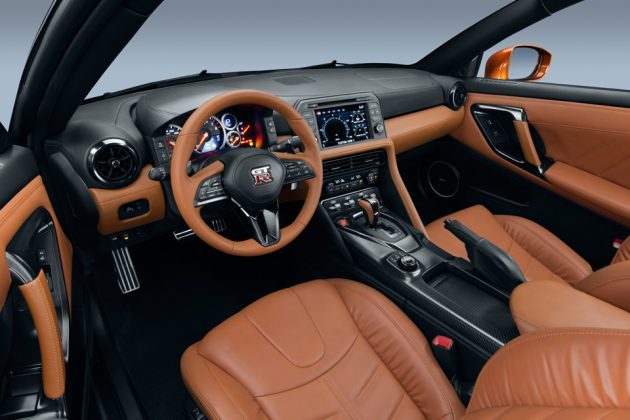 Other notables include a more rigid body structure, new suspension setup, new 20-inch 15-spoke forged aluminum wheels, Active Noise Cancellation technology and soundproofing materials to keep the cabin quiet at all speeds, and a new color, "Blaze Metallic" orange color you see here. The 2017 Nissan GT-R Sports Coupe will be rolling to U.S. market this summer. No words on the price at this point though. Are you impressed by the new Nissan GT-R?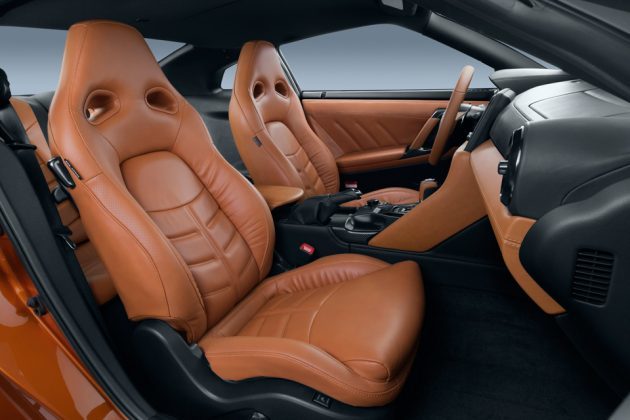 I am not going to lie; I am not. I still miss the days where it was still Skyline GT-R, where grunt and raw power were the name of the game, as opposed to today's "power and luxury." I don't know man. If Nissan is trying to play catch up with luxury marques like Maserati, Aston Martin and the likes, then I am sad to say, it is not going to work. GT-R made its name with RB26DETT – that's inline straight six for you and hence, some fans like me, will always consider 2007 as the death year for the legend.
Somehow, I have a feeling that Nissan is undecided about where to position GT-R. A luxury sports car or a real sports car? There. I have said it.