After a hard's day work at the office, some people find solace in massage, but why wait till you knock off when you can get a massage right there and then? Heck, you can even have that much needed tension release right there on the train. Don't worry, with the AiraWear Massage Hoodie, no sexy ladies will be hitting up your office cubicle; instead, the magic all happens in the hoodie. Just try not to moan in delight as the virtual massager applies the appropriate pressure on your aching areas like the shoulders, back and lower back. The jacket is totally discreet and it can get to work as you work at your desk, or as you are down the aisle picking up groceries.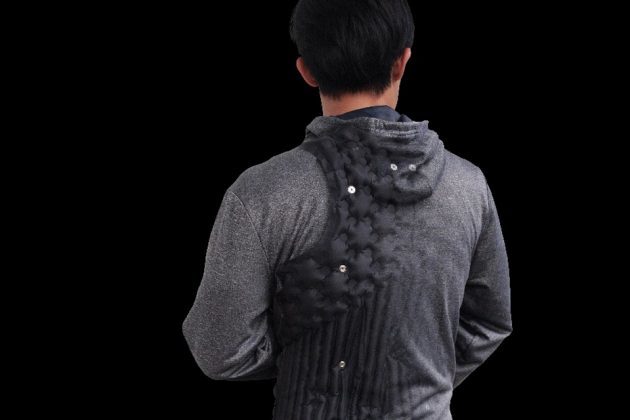 Basically, it is massage on-demand, anytime, anywhere. If that's not enough, AiraWear Massage Hoodie is also your personal posture disciplinarian, tracking your posture in real and alerting you of bad posture in real time so you'd have lesser backache to begin with. The apparel boasts specially targeted acupressure modules that are designed to release tension caused by hours of sitting and undesirable postures. A total of six modules are spread across your shoulders, middle back and lower back, and with a simple swipe of the smartphone app, you can adjust the intensity of the massage.
Two models are being offered: the hoodie and vest. The former comes with an integrated hoodie (detachable for washing), while the latter allows you to enjoy AiraWear while wearing the outwear of your choice. AiraWear is developed by Singapore-based team who has taken this innovative massaging apparel to Kickstarter where you can pre-order for $119 or more. There's no need to worry about funding, because, as it turns out, more than 800 folks are in dire need of a punch on their backs and the campaign have since met its funding goal. And so yes, it is a pre-order, alright and if all goes as planned, backers should be able to cosy up with AiraWear by November 2016.
submitted via TIP US page.