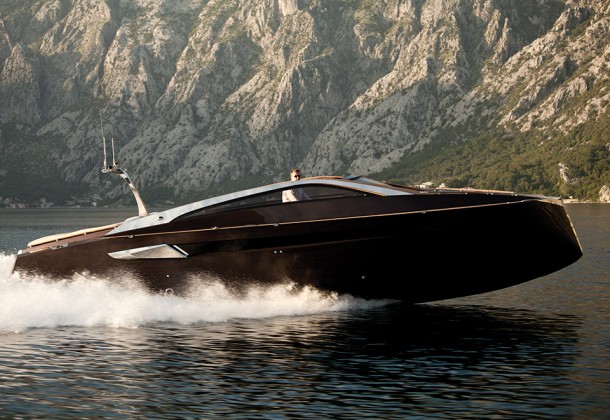 Antagonist Yacht by Art of Kinetik | US$tba | www.artofkinetik.com
the Antagonist is billed by its maker, Art of Kinetik, as a luxury compact yacht which we disagree – we think it is more than that. it has amazing lines that would easily be accoladed as the finest crafted wood sculpture to ever cut through the water. to us, it is a speedboat/luxury yacht hybrid packaged in a size that's agile and fun. this 37-foot open weekend cruiser is equipped with two 370 horsepower Yanmar 8LV-370 diesel units matched to two Yanmar ZT379 Sterndrive with SS props, together with its fine deep-V wooden hull, enables it to cut through the surface of the water at top speed of 42 knots, that's a good 78 km/h or 48 mph in land terms. though compact by a yacht standard, it features a large open cockpit cum deck that beckons up to eight passengers to chill out around its multi-functional table while a sunbath area framed by teak walkways lead to the swimming platform, catering to those who love to absorb the warm of the sun or take a dip in the open water.
the large volume, fully-adjustable pilot's chair is equipped with a small fridge, picnic box and a storage compartment. beneath the deck is a cosy air-conditioned home-like cabin spruced up by Boxmark Leather and features similar wood treatment that offers a welcome retreat for guests who just want to take break from the warm and breeze above. some other highlights include details like custom wooden stairs that most yacht overlooked or pay little attention to, Yanmar's EOS (Easy Operating System) for ease of reining this water-borne beast, Xtreme Maritime leather that's UV resistance, sea water, water and soil repellence (and resistance against suntan oil, if we may add), and the unmistakable beautiful craftsmanship of Art of Kinetik. honestly, if money is of no object, this is the watercraft that we would love to be on if we ever wanted to be on the water. the Antagonist Yacht by Art of Kinetik is slated to be launched this summer with pricing to be advised. sail past the jump for a gallery of the Antagonist.