San Francisco-based outfit AeriCam, who makes aerial photography rigs for a living, wants to make a flying camera drone that fits into your back pocket and while the wrist worn concept is a tad ambitious, this pocket-size flying camera could be a reality sooner than you think. dubbed Anura Flying Camera Drone, this tiny quadcopter is about the size of the iPhone 6 with its arms folded. little is known about this exciting endeavor except for it will be controlled with your iOS or Android smartphones via WiFi and it will, of course, has an onboard micro camera which will transmit the live footage to your mobile device so you can frame your shots.
if it materialized, this might be the next must-have gadgets for selfie fanatics. lets face it: selfie stick can only get you that far and so if you need a wider shot, a flying camera drone is your best bet and the Anura looks like a promising solution as it lets you bring it anywhere. from the initial product intro video, it looks there might be plan to incorporate this tiny photography drone into a case to go with your smartphone. AeriCam will be pitching this awesome concept on Kickstarter sometime in mid-October, where you can pre-order one at, hopefully, under 200 bucks.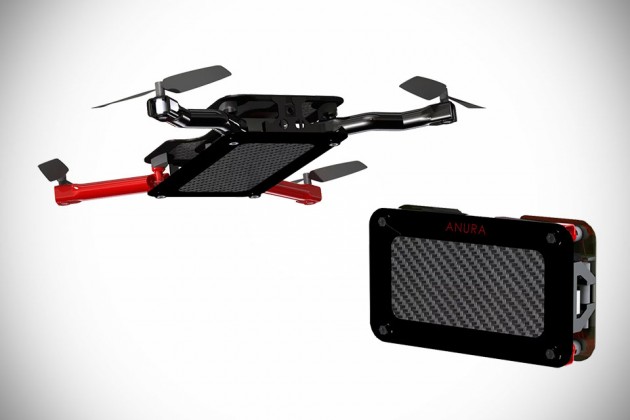 but don't get too excited first. according to AeriCam's founder Jason Lam, Anura will need at least 500 backers in order to start production and if the campaign managed to pull in at least 1,000 backers, then AeriCam will have enough orders to push the manufacturer to incorporate more exciting features like auto takeoff, auto-landing, return home and follow phone. sounds pretty cool. we can't wait to see it on Kickstarter.
however, as exciting as a flying camera contraption may sound, not everyone will be fond of everyone flying one – especially if you are thinking of bringing this little on your next travel. the last time we were in D.C., taking a pic with a tripod was already frown upon in some places. so we cannot imagine the reaction to a camera that flies. still, it might be a fun thing to have at parks and in your home backyard or perhaps at the canyons? anyway, keep going for the said video to see the prototype craft in action. p.s. pay attention to 1:30 mark.
Vimeo via Digital Trends