at 22.9mm AORUS X7 17″ SLI Gaming Laptop may not be thinnest, but it is possibly the lightest 17-inch class gaming laptop, tipping the scale just 2.9 kilograms (6.39 lbs) and that's for a machine that boasts a pair of NVIDIA GTX 765M graphics chips, as oppose to say, the Razer Blade Pro which has a single chip setup. comparing apples to apples, similar setup, albeit some more powerful like the Alienware 18 or even the Aftershock Titan, the AORUS could well be considered 'feather weight' and on top of that, it has a pretty rad design sporting a full aluminum construction finished in matte black.
powering the mobile gaming rig is a 4th generation Intel i7-4700HQ processor clocking in at 2.4GHz (up to 3.4GHz with turbo boost) and 4 or 8GB RAM. but there are four slots available, which allows further upgrading to up to 32GB of RAM. the specifics of the internal storage differs from countries and regions, but for starter, it has two slots for SSD, plus one HDD slot. cooling is one of the most critical aspect for any gaming rigs, more so for a tightly packed mobile system like the X7 and with this in mind, AORUS has attributed the X7 with five thermal pipes and two fans, topped with four vents to ensure more than sufficient cooling for those long hours of virtual battle.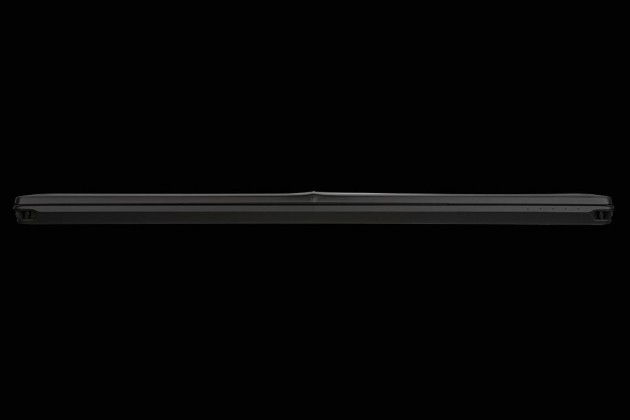 other details include backlit keyboard with scissor-switch macro keys, a large glass trackpad, an anti-glare Full HD display touting 8ms rapid response, built stereo speakers with 2 subwoofers, Killer LAN chip, WiFi 802.11ac, Bluetooth 4.0 technology and a 73.26 Wh lithium polymer battery. despite its thinness, the X7 does not skimp out on any ports. on it, it has three numbers of USB 3.0 ports, a pair of USB 2.0 ports, HDMI connector, a VGA port, RJ45, surround port, a miniDisplay port, SD card reader, microphone-in and earphone-out audio jack.
the AORUS X7 17″ SLI Gaming Laptop was first showcased at the CES 2014 and is now available for your acquisition for around $2,000 and up. there is a downside though; it appears that you will not be able to customize the system like what Digital Storm, Alienware and the likes can. the reason being, the lack of direct buying from the firm.