you have pet monitors that will take care of your pet when you are away, but what about your plants? the Aquarius Smart Plant Watering System you see here is one of the solution that wants to fill the shoes of taking of your plant when you go on your vacation. this largely nondescript box is actually a water reservoir that holds up to 2 liter (about 67 oz.) of water and is rigged with a micro pump to deliver water from the reservoir to the 'sprinkler'. within the box is also the necessary circuitry and WiFi module that lets you control the process remotely over WiFi, set schedule for watering and how much to water, and alert you via text messages when the reservoir is low on water. remote control to the said functions can be done either through the website or a companion app where you have full control over the watering schedule and even check on the water level.
the hardware itself also boast a well thought out design. it has an internal rib system which allows this pedestal-like box to support up to a hefty 10 kg (22 lbs) pots and the micro pump, though small, is cable of delivering water up to a meter (3.3 feet) height. additionally, the cover has a curved contour that will direct stray or excess water back into the reservoir so there will be no nasty water mess. the device is powered by low voltage power and all electronics are completely sealed against water intrusion. up to three 'child' units can be added to water up to four pots and in such setup, you will only need one power source and a 'head' unit to control the watering schedule. another noteworthy mention is the inclusion of a capillary runoff that will ensure all connected Aquarius maintains the same water level so you will have the convenience of topping up all the reservoirs at one go.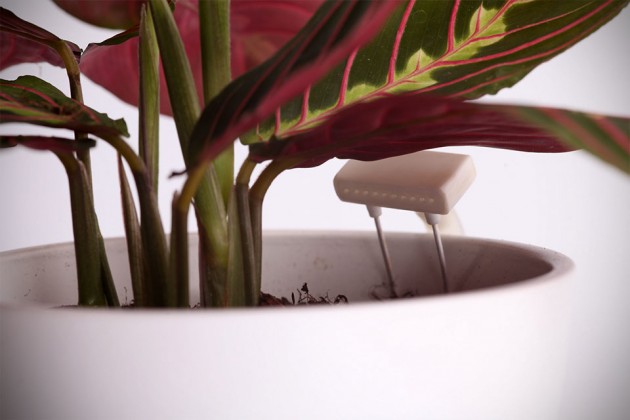 the Aquarius Smart Plant Watering System is currently running a Kickstarter campaign to gather financial backing to take this from prototype to one you can own. a pledge of $65 or more will score you one 'head' unit, but there are also other reward levels if you need more. if you are brave enough, there is a $15 DIY kit that lets you 3D print the product and put them together with the electronics of your choice.