(image credit: Jason Freeny/Moist Production) Cutaway 7″ Anatomical Mickey Mouse (Modified Vinyl Action Figure)
you must be wondering why would a tech-related blog dwells on art-matter? if you haven't already notice, this is a fusion blog from the very beginning. it has a wide variety of focuses like most of us do in real life. some of us live and breathe tech for a living but on the other side of our life we have keen interests in lifestyle such as art appreciation or fashions. in our second installment of 'artist in focus', we put our focus on a very talented individual by the name of Jason Freeny. Freeny is an industrial designer by education, an interfaced designer by day and an artist by night. many would have come across Freeny's visually stunning sculptures that puts anatomy into an otherwise empty vinyl action figures.
[ad#Google Adsense-text-468×60]
Freeny's sculptures often feature iconic characters of our time, including Mickey Mouse, Nemo the Clown Fish, Hello Kitty, the Qee Bear, among the many others. Freeny's works has a way of tickling our senses. the cutaway figurines showing the anatomy as imagined by Freeny can only be described as enormously artistically beautiful, yet nowhere near grotesque (which is normally associated with anatomy). besides anatomy sculptures, Freeny is well versed in graphic illustrations and his works are also featured in Gelaskins line of decals for popular gadgets. his graphic illustrations take on the anatomy of famous cartoon characters with the likes of SackBoy ("Sackboy Anatomy"), Domo (Domo Anatomy), Gingerbread Man ("Gingerbread Man Dissected"), just to name a few.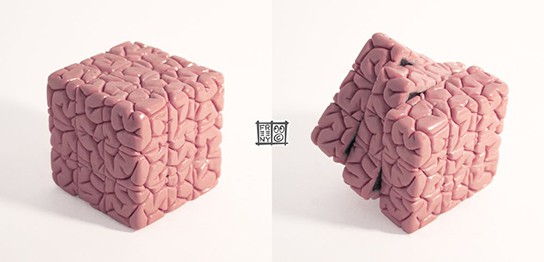 (image credit: Jason Freeny/Moist Production) Jason Freeny Rubik's Cube embedded inside brain sculpt | fully functional puzzle
the latest to join Freeny's list of impressive work is the Rubik's Cube which Freeny had the Rubik's cube taking on the form of brain pattern instead of the usual multi-color faces. this fully functional puzzle, is the artist's visual pun on the original Rubik's cube. having struggled with an actual Rubik's cube, i couldn't agree more with Freeny's sculpture. some of Freeny's best works are available for purchase via his online store and also via his many collaborations with the likes of Gelaskins, Zazzle.com and Ukavas Art. sadly, some beautiful one-off examples were already sold out. nevertheless, check out some images of Jason Freeny's work of art after the break.
hint: you may be able to find some of Jason Freeny's works up for auction on ebay occasionally. watch his blog for possible updates on auctions of his awesome work of art.