in the 80s, boombox over the shoulder was the in thing. then music became more personal in 90s, where headphones gained popularity (and so did portable music player) but things haven't change much since, until now. meet the Axent Wear Cat Ear Headphones, the new-age mini-boombox that fuses personal audio cans with external stereo speakers stuck to a pair of 'cat ears' atop of the headphone's headband, making it the purr-fect portable audio listening device anyone with the penchant for cute stuff could ask for. headphones that has integrated speakers are not new, but what this California-based start up did was something out of the ordinary.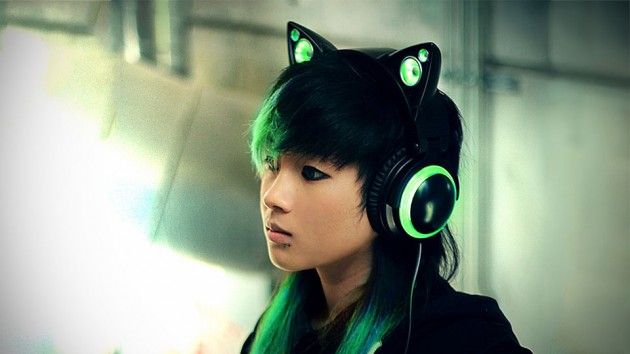 instead of sticking the external speakers' drivers to the earcups like we have seen (though rarely), Axent Wear have chose the adorable path by embedding the speaker drivers into a pair of cat ears. slapped some LEDs on the external speakers and earcups, and you have one bad ass cosmos kitty ready to pump out your favorite audio tunes through its 40mm drivers offering 20Hz-20KHz frequency response, or if you like, share your music through the cat ear shaped stereo speakers, at a flick of a switch. the Cat Ear Headphones also features a removable 3.5mm audio cable with integrated microphone for gaming, a rechargeable battery to power the built-in stereo speakers and a set of comfy over-the-ear cushions.
there is no fancy Bluetooth here. it is just the super cute, light-up audio cans, and a replaceable cable. with an ocean-full of headphones, this is sure to let you stand out in any crowd and if no one notice your cat ears, just let those tunes out through them and we are sure you will have everyone's attention. available in four colors: blue, red, green and purple, the Axent Wear Cat Ear Headphones can be acquired from Indiegogo from now till November 7, 2014 for $150 a pair. the campaign is on fixed funding, but there is no worries the project funding goal cos' it is already over 270 percent funded, so you can expect your very own kitty audio cans to reach you sometime in April 2015 if you pre-order one. hit the jump for the pitch video.