we are late on this. but if you haven't heard, HTC has a new selfie-focused flagship smartphone known as HTC Desire Eye, announced along with the RE action camera last week. why we didn't post it sooner? because all this while we were digging at the wrong place: the HTC newsroom which still has news dated September and so naturally, we didn't think it was 'official'. anyway, more on that later but first the Desire Eye. this top-of-the-range Desire model is a 5.2-inch Full HD smartphone touting 13MP rear and front-facing BSI cameras paired to a f2.0 28mm lens (rear) and a f2.2 22mm lens (front), both equipped with dual-LED flash. and to top that up, the Desire Eye is loaded with software to enhance your mobile photography experience.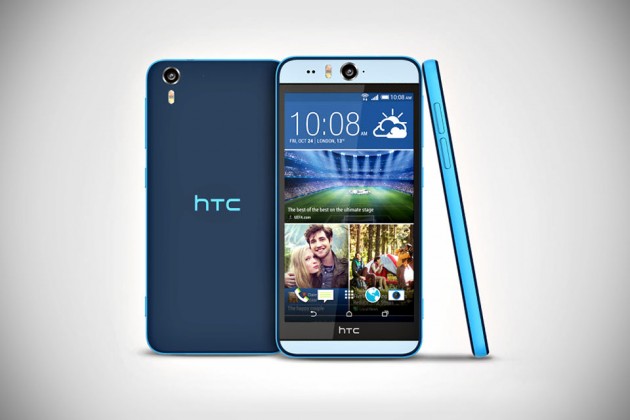 with such generous features on the imaging department alone, it is obvious HTC desires to have a piece of the selfie-focused smartphone action, but whether it is a right strategy, i guess only the market can be the judge. aesthetically, the HTC Desire Eye's unibody plastic construction, which happens to be dust proof and water resistant (IPX7 certified), looks surprisingly pretty. we kind of dig the plastic design with the contrasting band. in fact, we though it looks more desirable than the M8 (pun not intended). aside from its photography prowess, the rest of the Desire Eye is no slouch either. tech spec details include a Qualcomm Snapdragon 801 with 2.3GHz processor and 2GB RAM, 16GB onboard storage – expandable via the microSD card slot which supports up to 128GB, 1080p display, stereo speakers with built-in amplifiers (also carries the BoomSound namesake, though speakers aren't front-facing), active noise cancellation with dedicated microphone, a non-removable 2,400 mAh lithium-ion battery, 4G radios, plus the usual suspects of connectivity and sensors.
look out for it later this month. price is yet-to-be-announced, though likely to be telco-tied. now that's for the star of this post, which has eluded us because we were expecting an official press on HTC newsroom which turns out to be news dating back to September and as we waited, time slipped past us and here we are today, on a Sunday, churning out this bit of old news. old news it is, but we still desire to have a go with this handset.