among the last thing you expect from a handset manufacturer is an action camera, but here it is, the HTC RE Action Camera that looks like anything but an action camera. it has an uncanny resemblance to periscope, asthma inhaler or some say, a L-shape flashlight use by some defence forces. beyond its out-of-the-norm, but minimalist aesthetic, the RE is as simplistic as the design is: it has no viewfinder and it has only two buttons. one for taking 16MP stills, or long press for 1080p videoing and the other is a slow-mo action button that allows you to capture slow motion video in HD quality. notice none of the two buttons is a power button? because it don't need one – thanks to the built-in instant-on grip detection, all you need is to pick it up and it is ready to shoot.
the lack of a viewfinder or monitor is made up by your HTC handset, or any handsets for that matter. RE pairs with your smartphone and uses your phone's display for framing of shots and for playing back photos and videos. on the spec-sheet, it has a 146-degree f2.8 wide angle lens and records 1080p video at 30fps onto microSD card (it comes supplied with an 8GB card, but it can support up to 128GB). there is also a built-in battery good for 1,200 shots or an hour and forty minutes of videoing and the device comes standard with a host of connectivity, including Bluetooth LE, WiFi, WiFi Direct and of course, micro USB for charging. it works with the RE companion app, available for both iOS and Android devices, to let do the aforementioned. and oh, it is built to IPX7 rating, which means it is totally waterproof to one meter (3 feet) and safe to be near or in the pool.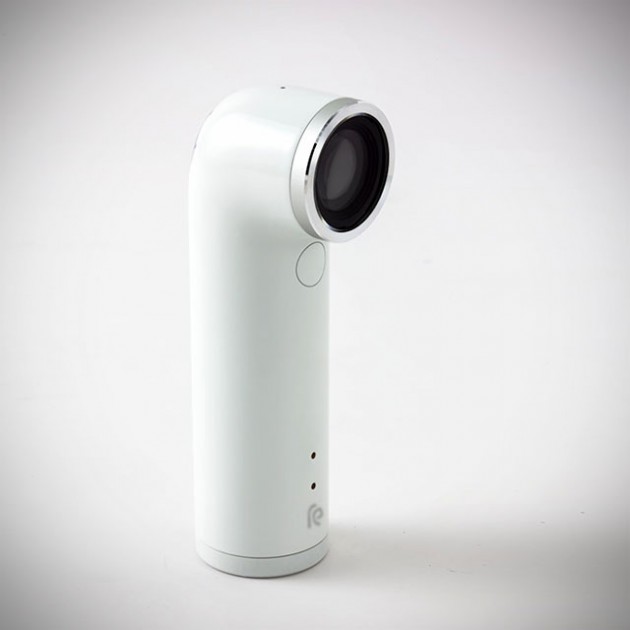 weird shape aside, the HTC RE Action Camera sure sounds like a pretty capable action camera. now, how the heck are we going to secure this to our helmet? oh wait, HTC is also offering a bunch of accessories to attach it to anything from your bike's handlebar to your backpack to your office/home window sill. those are just "coming soon", though. three colors are being offered: white, orange, teal and a Best Buy exclusive Navy color. official release date is sometime later this year, but if you can't hardly wait, you can put down $199.99 to pre-order one starting today.