sports car enthusiasts with a penchant for Porsche's fast cars that are a little less family orientated, rejoice because the next GTS is here, well, almost and it is not just any GTS, it is the 911 Carrera GTS that we are talking about. slated to hit the showrooms in the U.S. this November, there is not one, not two but four models to make you at least $114,200 poorer. the four models include a coupe and a cabriolet, offered in a choice of rear-wheel or all-wheel drive, but regardless which you choose, you will find the same evocative flat-six engine at the rear, pushing out 430 horsepower – a 30 hp over the Carrera S, in case you want to know where those extra money goes to.
but of course, it is more than just extra power. there are other perks that comes with every Porsche that wears the GTS badge, including but not limited to, Sport Chrono package comprising of dynamic engine mounts, Porsche Torque Vectoring with rear LSD and Porsche Active Suspension Management PASM) damper system that lowers the ride height by 10mm, plus some mandatory GTS makeover inside and out. we will get to that later. meanwhile, on the performance aspect, 911 GTS is naturally quicker, but maintains the same economy as the S models. equipped with Porsche Doppelkupplungsgetriebe aka PDK double-clutch gearbox, it makes 0-62 mph (100 km/h) in 4 seconds flat (or 4.2, for the cabriolet) and the rear-wheel drive model can reach up to an exhilarating 198 mph (318 km/h) when mated to a seven-speed manual gearbox.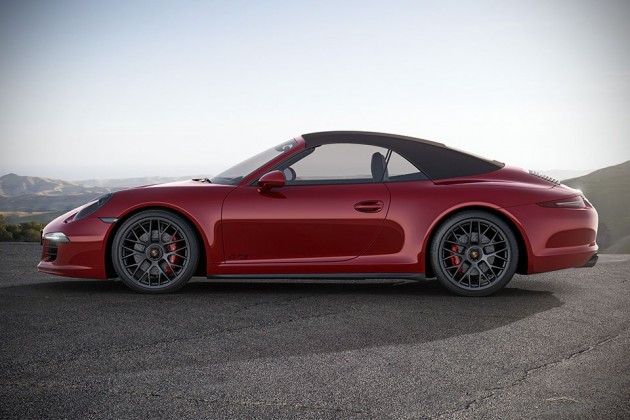 on the cosmetic aspect, it is natural that a GTS looks the part of, well, GTS which sees the 911 Carrera GTS getting 911 Carrera 4 body, boasting wide-flared rear wheel arches and a wider track, riding on massive matt black finish 20-inch alloy wheels with center-lock mechanism. up front, you will find special trim elements at the nose, complemented by smoked bi-xenon headlights along with Porsche Dynamic Lighting System and to the rear, bespoke GTS black trim strips can be found at the air intake grille, while black chrome-plated drapes the quad exhaust tailpipes. in case passerby missed the visual cue, there is the standard sports exhaust system that will add some sonic differentiation, separating your GTS from the regular S.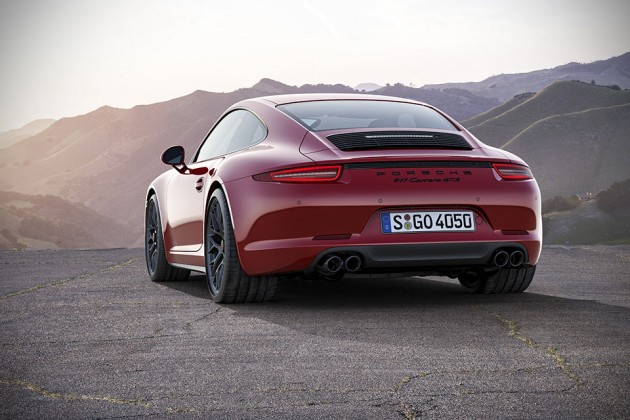 on the inside, a pair of leather-trimmed sport seats is surrounded by an exclusive Alcantara interior, along with features like 7-inch color touchscreen Porsche Communication Management with satellite navigation, digital radio and universal audio interface with MP3 connectivity, automatic climate control, Porsche Stability Management, as well as Porsche Vehicle Tracking anti-theft system. now for the good news for all those who can afford one (or maybe all four?). as mentioned, prices kick off at $114.200 in the U.S. as for those in UK and Ireland (prices start £91,098 and €144,329, respectively), you can put in your order starting today, though we are not sure about North America and other parts of the world.