if you are a huge Star Wars fan, you probably have, at one point in time, fantasied about piloting one of those awesome star ships even though you know they are frictional stuff. what? they are not real? yes. they are not real. everyone knows that, right? in fact some of them like the TIE Fighters and Snowspeeders pretty much defies the law of physics (remembering places like Endor and Hoth appears to have gravity, don't they?). still, that has never stop us from dreaming that kind of machines. but not all hopes are lost, because there is the Star Wars: Battle Pod arcade game where you can take command of iconic flying vehicles like X-wings, snowspeeders, speederbikes, TIE Advanced and even the Millennium Falcon and get into some film-to-game actions.
what make the Star Wars: Battle Pod unique is, it features an arcade-exclusive gameplay where you will be playing on a unique dome screen that surrounds your entire area of sight – something that you probably can achieve on home PC. the game has five stages, recreating the fiercest true-to-film battle scenes from the original Star Wars trilogy, including slugging out on Endor, Hoth, Death Star II, Yavin and more. brought to you by Bandai Namco Games, Star Wars: Battle Pod arcade game will not only surround you with gameplay images, but also let you feel "a real sense of flight combat action and delivers authentic flying experience as if players are actually sitting in the cockpit of a battle pod in the Star Wars universe" while further realism is offered through "the impact of the explosions and destruction" as if you were actually in the midst of the action.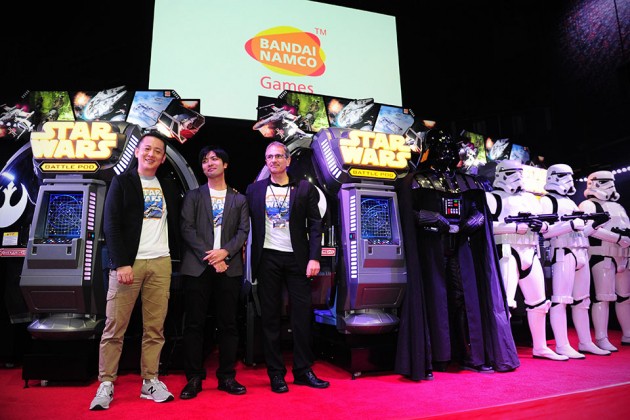 well, what can we say? it sure sounds like a lot of fun and looks to be the only way to satisfy your fantasy of one) being a pilot in the Star Wars realm and two) a Hollywood star. either one, this will work for you and dressing upon as Han Solo or Darth Vader before you hop in for the ride is entirely optional. you can experience the Star Wars: Battle Pod this week in New York City at an announcement event at the "Marquee NY". the rig will continue to be on display at Dave and Buster's in the Times Square location throughout the New York Comic-Con event. after which it will be available at participating arcades in the U.S. starting January 2015, follow by a global launch.
via Star Wars