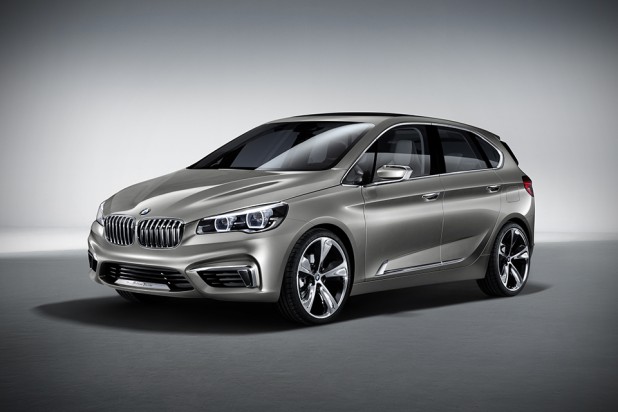 BMW Concept Active Tourer | US$tba | www.bmw.com
while most concept cars bear the hallmark exaggerated design that will not likely to see the day of the light, the new BMW Concept Active Tourer begs to differ. if weren't for its namesake, one would almost believe that it is an upcoming vehicle from the German marque with its convincing and realistic aesthetic. beyond its down-to-earth and yet sleek look, the Concept Active Tourer is a plug-in hybrid equipped with BMW's eDrive that should alleviate your crushing guilt about driving it to your local mall instead of cycling. powered by a 1.5-liter turbocharged straight-three unit with VALVETRONIC and a lithium-ion powered electric system that combines to deliver a total of 190 horsepower (140 kW) that enables it to sprint from zero to 100 km/h (62 mph) in under eight seconds and on its way to a terminal speed of 200 km/h (124 mph). most importantly, this concept hybrid will have the interior room and low fuel consumption of less than 2.5 liters per 100 km, which makes it a practical day-to-day get about vehicle. additionally, it is capable of traveling up to 30 km on pure electric power, making your daily short trips an emission-free one and when the power runs out, it can be charged at any 220 volt household wall outlet. oh, and it is front wheel driven – the first for BMW.
other cool features packed into this concept include the use of open-pore laminated wood milled from a single block on the inside, soft full-grain leather interior, optional full-color Head-Up-Display (HUD), an eight-inch central information display, an innovative sunroof dubbed as Cool Shade that changes opacity at a touch of a button, and a split-foldable rear for temporary increase of cargo space. all told, it sounds like a mix between fantasy and reality, as far as the interior implementation is concerned, which any car enthusiast who love to see them come to fruition. while we let our minds wander and fantasized what BMW and the rest of the automakers are putting on the table on how the future of automobile would be, please do take the time to check out a small gallery of the BMW Concept Active Tourer, available after the break.