Surfing and motorcycle are two things that almost always never associated together. Mostly because you can't really transport a surfboard on a two-wheeler, but that doesn't stop the bike arm of German luxury car maker, BMW Motorrad from collaborating with artist Ornamental Conifer and surfboard shaper Mason Dyer of Dyer Brand to design the BMW Concept Path 22. BMW calls it a scrambler. We don't quite see it as one, partly due to the fact that it is based on the BMW R nineT which is essentially a roadster, but the Concept Path 22 does bear a couple of scrambler features including studded tires and a raised exhaust.
The bike is linked to surfing culture though artwork by Ornamental Conifer Nico Sciater, who has been closely related to the surfing community, plus a specially fabricated surfboard holder which can be found on the right-hand side of the bike. The surfboard holder is made from machined aluminum and leather, and though it can be adapted to different board sizes, Dyer has custom made two boards, a long board measuring 9' 4" and a shortboard of 6' 8", exclusively to go with the Concept Path 22 and there is a specially designed BMW leather jackets to boot too.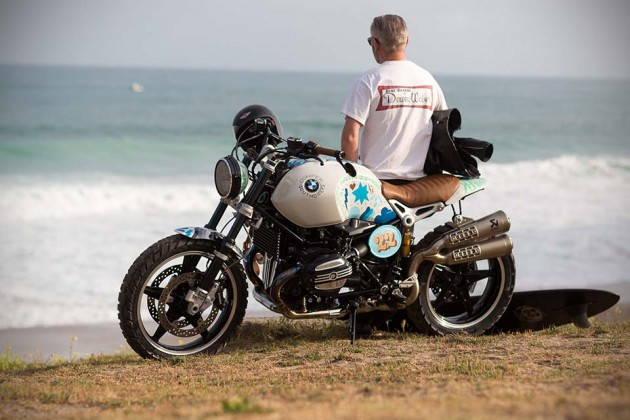 It is a complete package that captures the essence of the surfing spirit, only bettered by its name itself "Path 22", which refers to one of the insider secrets among Europe's surf spots. This particular stretch of beach is inaccessible to cars, located on the Atlantic coast of southern France, half an hour's walk through one of Europe's biggest pine forests. The path leading to this spot bears the number 22. No words on when you can expect to acquire this beauty for your follow-up surf trips, but one thing we know is, the BMW Concept Path 22 is being presented at the Wheels & Waves Festival, where folks with the love for custom bikes, surfing and art, gathered in Biarritz.