At last year's CES, BMW made headlines with an e-ink-wrapped car, the BMW iX Flow, that can change patterns. That was monochrome. This year, also at CES, the German automaker revealed yet another headlining concept car, also wrapped in e-ink but this time it changes colors. Called the BMW i Vision Dee, this radical concept car curates its exterior in up to 32 colors.
The Dee in the BMW i Vision Dee stands for Digital Emotional Experience, a concept that aims "to create an even stronger bond between people and their car going forward." To be honest, I have absolutely no idea what that means. All I know it is part of the marketing playbook of driving emotions in consumers and so I would rather not read too much into it.
I prefer to be enthralled by a car that changes colors right in front of my eyes. Seriously, folks. It is so goddamn surreal. Like some car commercial that shows the color options of the car. The difference is, this is no video FX and it does multi-colors aka patterns, not just a single shade common to regular cars.
Another striking feature of the BMW i Vision Dee is that it is a radical departure from its usual design language. BMW referred to it as "pared-down design language." Presumably, this is the automaker's design language moving forward. Not going to lie. I kind of like it. It is so un-BMW which is very refreshing. Not even the awkwardly huge kidney grille introduced some years ago was this refreshing.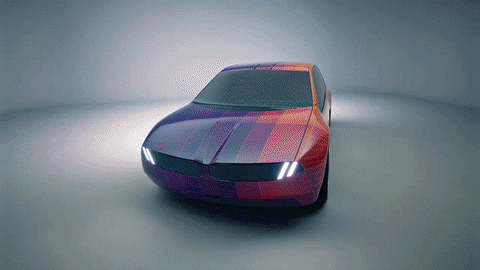 No surprise here that Dee here is a futuristic ride. It envisioned that future digital functions will go far beyond the level of voice control and driver assistance systems we are familiar with today. Here's the gist to give you an idea of how crazy futuristic this vehicle is:
"The BMW Mixed Reality Slider, in combination with the advanced Head-up Display, is the digital highlight and central operating control of BMW i Vision Dee. Using shy-tech sensors on the instrument panel, drivers can decide for themselves how much digital content they want to see on the advanced Head-Up Display. The five-step selection ranges from analogue, to driving-related information, to the contents of the communications system, to augmented-reality projection, right up to entry into virtual worlds. In parallel, dimmable windows can also be used to gradually fade out reality. Mixed reality can be experienced in BMW i Vision Dee in an immersive way that engages different senses without requiring any additional tools, creating a new dimension of driving pleasure for the user."
I know right. It takes a bit of time to digest what BMW has proposed. If I can be honest, it feels like the future is more complicated than intuitive. But maybe that's just me. I prefer simplicity. You know. Just hop into the car, insert the key and turn the ignition, engage the gear, step on the gas and move off. Perhaps turn on the FM radio for a bit of entertainment. Anyhoo, you can learn more about Dee over at this page on the BMW website. Get ready for your mind to be blown.
All images courtesy of BMW.