What you see here is not an Earthly iteration of the galaxy's most notorious bounty hunter Boba Fett cosplay getup. Dubbed the GalacTac Project, this made-for-airsoft battle 'armor' suit is designed Ryan B. Flowers for AR5000 Armor with involvement by several other "industry leaders," including Heckler & Koch, TEA Headsets, Sog Knives & Tools, Armasight, SureFire, Wilcox Industries Corp, and Team Wendy. The suit (we call it suit, cos' it sure looks like one) includes the now iconic Boba Fett helmet complete with the requisite T-shaped visor, along with chest and shoulder armor, and wrist gauntlets that note, does not spew fire.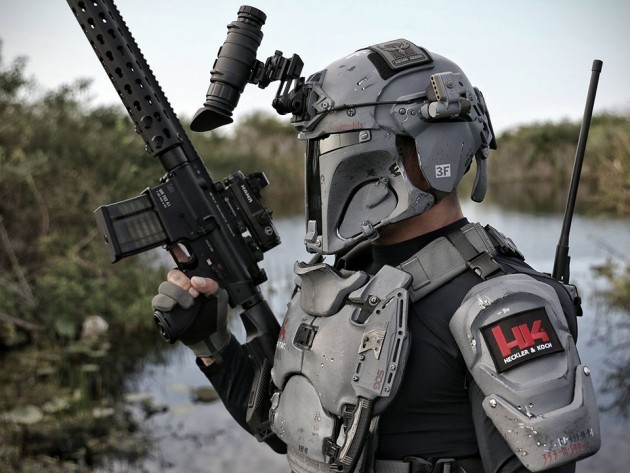 There's no jetpack too and I am sure the armor is not of Mandalorian origin either. And obviously, there are no twin blaster pistols, whipcord launcher and rocket dart launchers. If it ever get produced, which we doubt because of potential licensing issues, you will only have your trusty airsoft to do the job and/or defend yourself. Anyways, the suit looks pretty dope, but we can't help but to wonder about the breathability issue.
We heard AR500 Armor has brought the suit to Shot 2016. So if you are interested, you have one day to catch it in person at Booth #6605.