like the automobile industry, the motorcycle community could also benefit from a new entrant or two every now and then, you know, for variety and freshness sake. unfortunately, the barrier of entry of bike making is as intimidating as automobile industry, which means new maker don't appear as often as one might have hoped for. then the Bultaco Motorcycle came about in 1958 as an alternative to mainstream offerings and in the process, sort of carved its name in motorcycle racing in Europe, but unfortunately, it was wound down in 1983. that was history. fast forward to 2014, the defunct Barcelona-based motorcycle manufacturer has officially announced that it will be making a comeback and the bike you see here, the Rapitán, is the bike that will pave the way for more to come.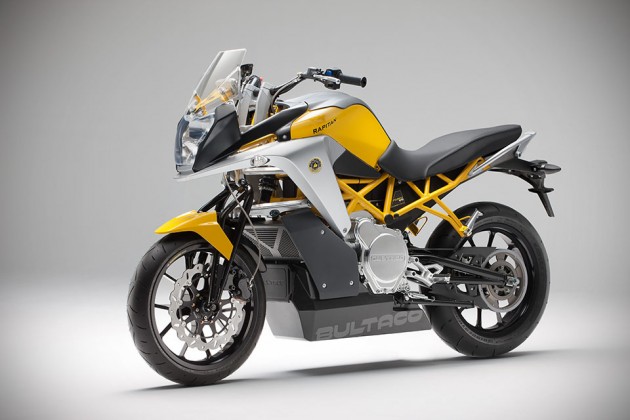 though the brand will uphold the values as it was founded on, its rebirth is in fact a transformation of an engineering firm, LGN TECH Design S.L. that has, since its founding in 2010, been developing its own electrical and mechanical designs and putting them to their paces in electrical motorcycle racing. so yes. the Bultaco is of an electric ride. though there is no official word if electric is the sole path or will there be a revival of old gasoline favorites like the Sherpa T and the TSS125 Road Racer. anywho, the Rapitán and the Rapitán Sport will be the company first bikes anticipated to be built this year. at the heart of the Rapitán is a Bultaco PowerCore eMK1 air-cooled brushless motor producing 40 kW and 125 Nm of torque, capable of a top speed of 145 km/h and up to 200 km range.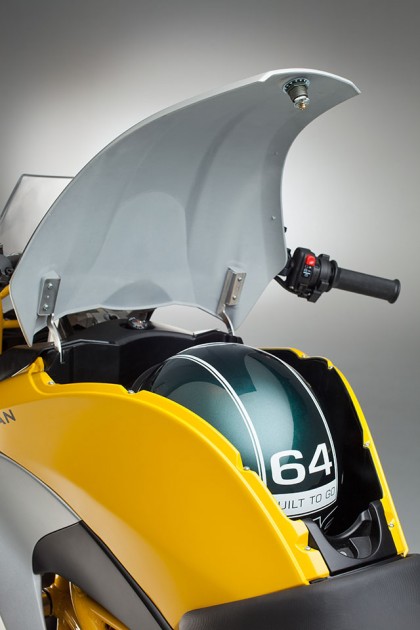 a Bultaco-developed lithium-ion battery keeps the electric motor juiced, while regenerative braking puts back some of the those energy back into the system. an onboard charger lets you recharge the vehicle in just 3.5-5 hours and a quick charger will keep that topped in mere 45 minutes to an hour. and since it does without gas, Bultaco has cleverly integrate a storage compartment, big enough for a full-face helmet, into where the gas tank would have been. the Rapitán seats two and rides on 17-inch wheels wearing 120/70R17 and 150/70R17 rubbers. of course, there are more to it then what we can detail and when it rolls into the market, the Rapitán will likely be one of the most advanced electric motorcycles to date, if not the most advanced.