when you have a watercraft that looks as elegant as the Aeroboat by Claydon Reeves, it is only right that it graces a prestigious event like the Salute to Style which will be taking place at The Hurlingham Club on July 16-19. this Brit designed and built futuristic day-boat is powered by a reconditioned, fuel-injected Rolls-Royce Merlin V12 engine, 'detuned' to 1,100 horses which will provide it ample enough power to make an estimated top speed of between 75 and 95 knots (86 and 109 mph). for the design of the watercraft, yacht design studio Claydon Reeves looked to the famous World War II fighter plane, Spitfire for inspiration. this design inspiration can be clearly observed from the stern and sweeping tail that reminiscences the vintage fighter's wing trailing edge to the authentic air intake scoop.
however, the designers don't stop with visual cues; the vintage aircraft inspiration continues into the cabin with aircraft-inspired throttle and switchgear, plus shock-mounted forward seats that mimics the Spitfire's landing gear. the boat takes advantage of today's high-tech materials such as carbon fiber and Kevlar for their beauty, strength and lightweight properties, and combines them with classic material such as wood veneer for an uber hybrid of modern-cross-classic old-school look. all of the twelve Aeroboat super-yachts (more like oversized luxe speedboat, really) planned will be offered with configurable interior, engine specifications, as well as exterior finishes for the added individuality – that's if owning one of just 12 is not 'individual' enough for you.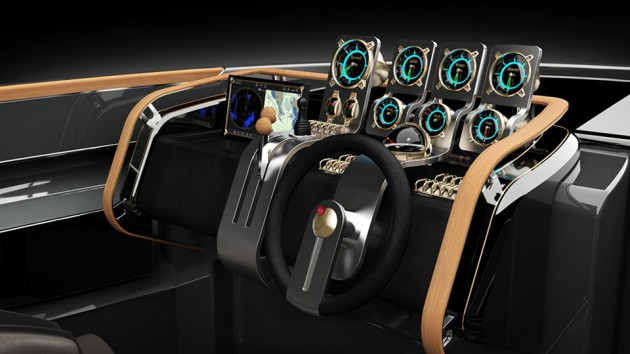 pricing is, unfortunately, unavailable, but we believe if touch base with the folks responsible, you will get some answers. needless to say, this is one of life's superfluous, so you'd be prepared to drop pretty penny for one.