while not exactly the old school flip switches that we inexplicability fond of (those are not safe by today's standard, btw), the Buster & Punch Light Switches present as an excellent alternatives to the boring switches you might have installed in your home and boy, am i thankful that they do exist because we kind of grown out of Clipsal's items. comes in crafted in a selection of materials, including solid marine-grade steel, brass, bronze, and anodized aluminum and available as dimmers or switches, each set of switch features diamond-cut knurled on the switch or switches that gave it a weighted feel and the unmistakable industrial feel, a flat plate and finally, finishing of with attention-begging Buster & Punch's signature solid penny buttons.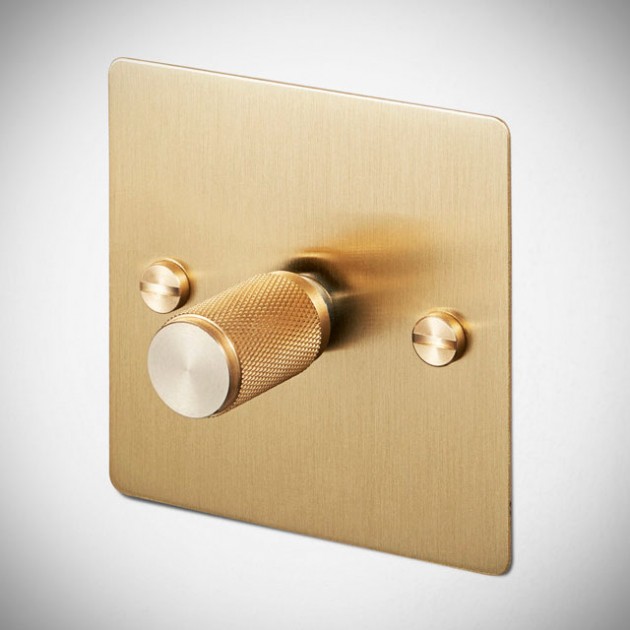 there are altogether ten models to choose from, each commanding a starting sticker of $30, which is most certainly deem pricey as far as switches are concerned, but nevertheless, awesome. honest words are, i would love to have those in my humble abode, but there are concerned about using electricity-conducting materials for switches, unless there are non-conductive materials between the beautiful switches and the live wires behind it (keeping in mind that electricity does 'jump'). there aren't any info with regards to this aspect, but according to the official website, these light switches are CE tested for use throughout Europe – if that's of any consolation.
and oh while you are pondering on the prospect replacing the switches of the entire house, you might want to know that there are also plug sockets in matching finishes to go with these switches. on a side note, it will be even cooler if it has a subtle LED so you don't need to fumble in the dark for the switches. continue to scroll down for a few more worthy looks.