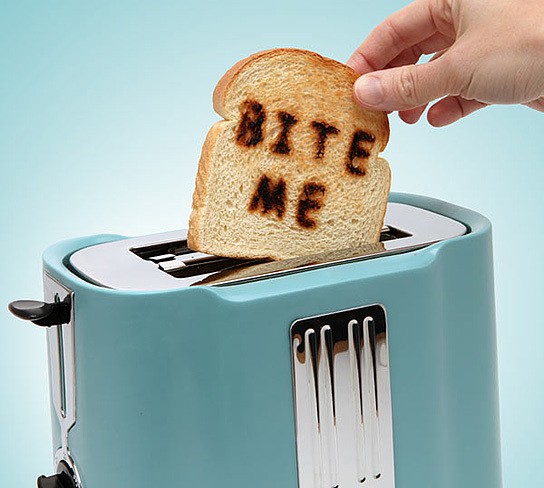 (image credit: ThinkGeek) Pop Art Toaster | US$44.99 | www.thinkgeek.com
imagine this: you woke up to the irritating sound of the alarm clock in the morning, stumbled sleepily into the bath and washed up, hoping the toothbrush don't end up in your nose. you get yourself changed and head on down to your kitchen for a good hearty breakfast. after which, you proceed with the journey to your office, probably somewhere downtown and probably, dropping juniors at their schools while on the way. sound monotonous?
[ad#Google Adsense-text-468×60]
not to worry, there are innovations and inventions that could help to inject a little fun into your morning. such as a couple of golden brown crisp toast burnt with "Bite Me" and a smiley face that begging to say "Urg…". well, that is exactly what the Pop Art Toaster will do to your morning toasts. yup, that's right. jazzing up your day right from the beginning. erhmm, we didn't begin the day from bedroom, but we are getting there. aren't we?
the Pop Art Toaster features easily removable templates, just in case you don't feel the need to jazz up your toast or when your in-laws are coming by, so you won't appear to be an immature over grown kid that their daughter has unfortunately married to. adjustable thermostat control and non-stick baking plate, and cool touch housing comes as standard, plus you get a matching USB coffee warming plate for free.
the Pop Art Toaster retails for $44.99 and is available at ThinkGeek web store.