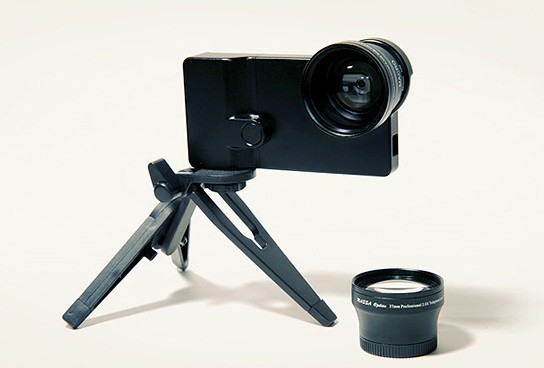 (image credit: Turtleback) Turtleback TurtleJacket | from HK$1,180.00 | turtleback.hk
like the low-fi photography phenomenal, lomography, iPhone photography is also quick gaining popularity despite the lack of stunning quality. if you love iPhonegraphy, then would probably dig the Turtleback TurtleJacket for iPhone 4. though equipped with a better camera quality, the iPhone 4 can hardly be considered as a replacement for your trusty compact digital camera, however, it does attract its horde of users, especially with the slew of photography apps available on the AppStore that further enhance the photography and videography experience.
[ad#Google Adsense-text-468×60]
avid iPhonegraphers would likely lament about the lack of tripod support and the inability to use external lenses that you may have in your possession. what if you could mount a tripod and use those lenses that you bought for your camcorder? sounds like an ideal situation, doesn't it? well, Turtleback TurtleJacket for iPhone 4 does both of the aforementioned. with the TurtleJacket, user can mount tripod to their iPhone 4 and use the numerous conversion lenses that you would normally use with your camcorder. how cool is that?
the TurtleJacket case is an aluminum snap-case case that has two tripod mounts (1/4-inch 20 TPI), two sets of strap holes and a 37 mm thread (female) for conversion lenses. hence, it is a multifunctional case that not only protects your iPhone 4 but also gives it the ability to accept any conversion lens with 37-mm thread, however, other sizes of thread are also acceptable through the use of converter rings which are widely available in the market. the dual tripod mounts, allow the iPhone 4 to be mounted on a tripod in two different orientations while the two sets of strap holes let user attached either a hand strap or neck strap to the case, just like the standard camera.
if you need 37 mm lenses to go with it, they are also available on Turtleback web store, starting from HK$600 (about US$77). not exactly cheap but it should appeal to true blue iPhonegraphy fanatics. the Turtleback TurtleJacket prices start from HK$1,180 (about US$150) and is available on Turtleback web store. i'm quite an iPhonegrapher but i thought the price is kind of prohibitive to me. if it's priced around US$50-60 for the case, i would have gotten it in a heartbeat.
Turtleback via Hypebeast