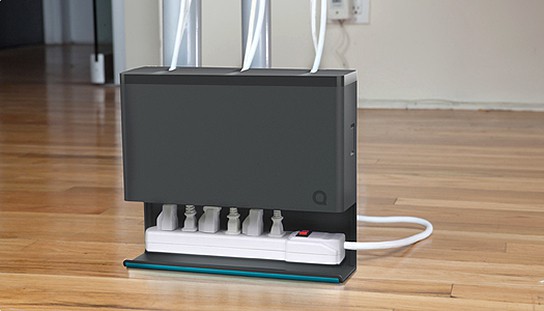 (image credit: Quirky) Quirky Plug Hub | US$23.95 (pre-sale) | www.quirky.com
usually cable management solution consists of nothing more than a box to conceal the unsightly clutter or at best, a contraption that coils the excess cables. hopes are high for cable-management aficionados as there might be a new solution in the form of the Plug Hub which combines the goodness of both methods of cable management. essentially, Plug Hub is a box with an alcove for your power strip and has three openings at the top of the unit that directs the cords neatly down to the power strip.
what makes the Plug Hub stands out is probably the three built-in cord anchors in the hub that allow users to coil up the longer cables. amazingly, this is a feature that has been lacking in today's cable management system. however, with the integrated anchors, it does somewhat bulked up the Plug Hub, giving it a 3.5 x 10.5 x 9.5 inches (88.9 x 266.7 x 241.3 mm) size. fortunately, the Plug Hub is a pretty sight too. made from rigid plastic in charcoal color with a light blue base, the Plug Hub has a rubber lining at the bottom, and it can be placed on the floor, lie on its back or mount to a wall.
i'm kind of obsessed with reducing clutter around me and the excess cables i have has always bugged me even with the use of a concealed power strip. i had to use three IKEA cord managers to wind up the excess cables, making the clutter a little more presentable but far from perfect.
the Plug Hub is not available immediately, but if there is enough order for the Plug Hub, then it will be made and shipped. the pre-sale price is $23.95, which i thought is a pretty manageable price. how's that for a start of a neat cable management?
PS: i like the idea of light blue base, which gives the Plug Hub a 'future-touch'. blame it on TRON.