The Carbon Flyer you see here may look a like a paper plane, but it is no weakling; it is tough as a nail, being crafted out of actual carbon fiber material in its entirety. In addition to the extreme toughness attributed by the carbon fiber construction, its dual coreless motors setup uses thrust vectoring for steering, thereby negating the need for servos and fragile moving parts, and further ensuring the capability to survive even the nastiest crash, the airframe is held together carbon nanotube enhanced epoxy that is said to bond stronger than steel welds. Basically, you're looking at one tough nut here and it really need to be as its ultra-low drag delta-wing design actually makes this thing fly pretty quick – at 640 km/h scale equivalent, to be precise).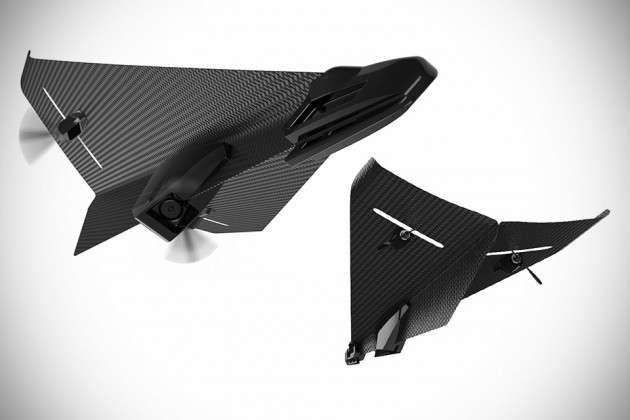 Since it is super tough, an impact nose cone is included to protect people, property, as well as the pointed tip from being damage. It uses a long range Bluetooth 4.0 connectivity, letting you control the carbon beauty from up to 240 feet (73 meters) away. Powering the motors is a rechargeable 3.7V 150mAh lithium-ion battery that offers up to 3 minutes of flight time. The uber short flight time is made up by the hot-swappable battery, which means if you bring a bunch of them, you can keep going for the whole afternoon – that's if you smartphone can last that long. A few other worthy mentions include a real-time battery and signal strength status on your smartphone, LED running lights with different colors so you know the direction of flight in low light condition, and finally, an onboard video camera that records 640 x 480 resolution images.
There is no streaming though, instead, the recorded footage will be saved on a microSD card. And when you are done flying and back to your 'base', there is an included display stand to showoff your carbon fiber pride on your desk or shelf. Carbon Flyer app-controlled video drone is on Indiegogo, where you will be able to pre-order one for an early bird price of 99 bucks, but if that runs out (limited to 1,000 unit, btw), you will have to settle for two flyers for $189. And oh, it is on flexible funding, you're indeed pre-ordering it, but that don't really matters as this video drone has, as we speak, 260 percent funded. Pitch video after the jump.