Like smartphone protective case, selfie stick is suffering from just-another-accessory syndrome. It is relatively cheap and easy to manufacture, thus resulting in a boatload of them flooding the market. That said, there's really nothing to innovate with selfie stick, but one Taiwanese outfit by the name of Cellways is undaunted and it is all up for the challenge of reinventing the selfie stick. The outfit didn't even bother to brainstorm for a fancy product name, simply referring it to as Cellways C1 "rotating selfie stick." But it caught our eyes nonetheless.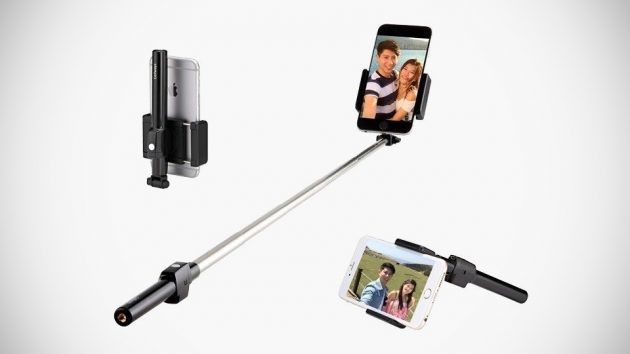 Unlike a bunch of cheap selfie stick, Cellways' iteration appears to have paid more attention to details, from the handle to the telescopic extender to the holder. Speaking of holder, Cellways' version, like the many selfie sticks out there, can be adjusted to fit a variety of smartphone sizes, but it stands out as one that will afford you the freedom of taking portrait or landscape mode selfie or wefie – thanks to its patented rotating holder. Another interesting and practical feature is its size. Cellways C1, which can extends to a maximum of 27.6 inches 70 cm), compacts down to a super pocketable size of just 6.14 inches.
So, if you have a decent size pocket, you can actually not remove your smartphone and slips the entire thing with your device into your pocket, and be ready for your next selfie. You could even answer a call just by collapsing the stick and not removing the device from it. C1 also comes equipped with Bluetooth remote shutter, powered by a 50 mAh battery, for one-handed selfie and comes with an integrated tripod thread, which so many Bluetooth-equipped selfie sticks lack. Finally, when compacted down, it can serve as a handy smartphone stand too.
If you are interested, you can hop over to Indiegogo where you can pre-order Cellways C1 Rotating Selfie Stick $20-22, or $28-30, if you fancy getting yourself a mini tripod to fit the C1.
Images courtesy of Cellways.