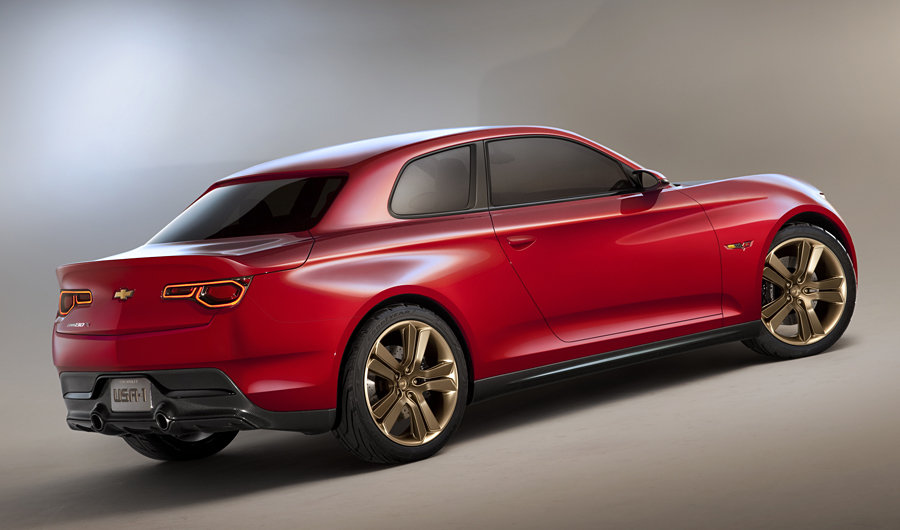 (photos: GM) Chevrolet Code 130R Coupe & Tru 140S Hatch Concepts | US$tba | www.gm.com
we are always thrilled by new concept car announcements, even more so if the concept looks like the autos of today and hence, making it into production seems like a highly plausible outcome. the Chevrolet Code 130R Coupe and the Tru 140S Hatch are two of those handsome examples that fit that description. the Code 130R Coupe is a rear wheel driven, 2+2 seater coupe sporting an aggressive front fascia, fender flares, and straight body side that invokes its link with Chevy's performance heritage. the concept wears an all-new red metallic paint matched with matte anodized gold wheels, which inevitably caught our eyes.
while the Code 130R goes along the line of 'safe sports coupe aesthetic' design, the front-wheel driven Tru 140S Hatch takes on a more radical exotic look but in a more affordable approach. though looking much like a coupe, the Tru 140S is in fact, a 2+2 seater three-door hatchback sporting an all-new matte white paint job, along with Chevy performance chrome wheels. the Tru 140S concept features technologies such as direct injection, a starter-based stop-start technology, balancing internal combustion and electrification that promised to deliver improved fuel economy.
both concepts are powered by a 1.4-liter turbocharged Ecotec motor that puts out around 150 horsepower (112 kW) and features eAssist technology, that is said to enable an impressive 40 MPG fuel economy. other features common to both include, innovative storage, WiFi, smartphone integration with Chevrolet MyLink and heads-up display. since these are just concept, price and availability are two keys that are nonexistence, and it is merely here to tease our imaginations. we invite you to join us after the break for a gallery of this gorgeous duo.