Unless you are a pro diver who dives really deep, then we suppose a pro dive watch is out of the question. Not everyone can afford a dive watch that cost thousands, much less one that cost tens of thousands. This is where Chronologia, a startup watchmaker, comes in. The outfit wants average folks to own one such watches without breaking the bank while being a trusty companion to their everyday active lifestyle, be it working out, running, swimming, or scuba diving, day or night. But will Chronologia Trigalight Dive Watch lives up to its promises? We will find out as we dive into the details of the product sitting right here on our desk.
The thing with new timepieces coming from a relatively unknown maker is, we never know what we are going to get and hence, the skepticism. More so if you are buying it online, where you can't actually see and feel the real thing. Well, for that, we can assure you that Chronologia Trigalight has the aesthetic that will put a smile on rugged watch lovers. However, do not expect the bulging rugged look like G-Shock; instead, it has a elegant rugged look – thanks to the carbon fiber case.
Speaking of the case, I notice it has rather 'sharp' edges, specifically on the underside of the case. Unlike stainless steel case, which is often chambered or rounded (if ever so slightly) for a smooth, non-intrusive feel, the Chronologia Trigalight only has 'smoothen' edges on the case's upper. Though the sharp edges has no effect on the wear comfort or whatsoever and together with the silicon strap, the watch feels really nice and comfy on the wrist.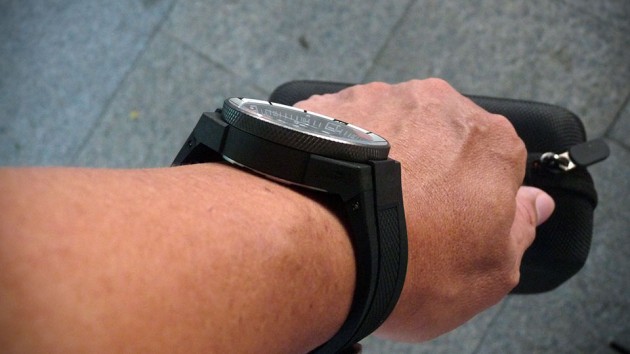 The dial face has some subtle texture too (sandstone black, I guess?) that, again, helps to break the monotony associated with black timepieces. The dial face is where you will find the much touted Trigalight tubes, which itself is a brilliant watch development, but you won't find it all over. Those always shine illuminating tubes are on the hour and minute hands (long and short, respectively) and at 12, 3, 6 and 9 o'clock positions, while the rest of the markers are regular illumination.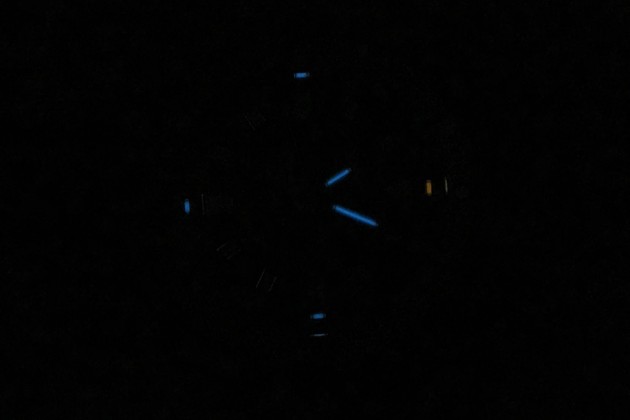 Interestingly, the 12 o'clock Trigalight tube is in orange hue so you will be aware of the watch orientation even in pitch darkness. An oh, there is an illuminated tiny dot on the bezel, so that you will know where the diving scale starts. Other elements that occupy the dial face includes the Chronologia branding, a date window at 3 o'clock, depth of water resistant info, and of course, detailed markings. As the much hyped brightness, well, I could only say it is clearly visible but perhaps not as bright I thought it would be. Trigalight is a tad brighter than regular illumination, but I guess the awesomeness lies in the fact that it does not need to be 'recharged' under natural or artificial lights and draws no battery power.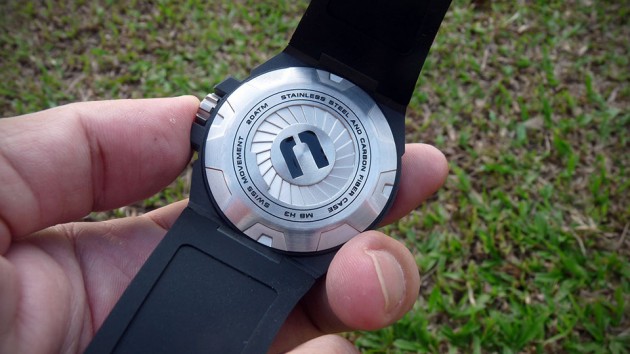 The caseback is of stainless steel. Like the strap, a caseback is a caseback, which usually has nothing to shout about unless it is skeletal or has some precious stones embedded in them. But hey, this is a sport watch and so, it is not going to have those fanciful stuff. Chronologia has chosen to go with a gear-like design with what looks like a camera shutter (or was it a turbine?) pattern engulfing the company's logo.
You will also find information on water resistant depth, materials of the watch, movement and model of the watch engraved here. Everything is fairly regular and perhaps, don't even need a paragraph to detail, but there is one particular detail that bothers me: the logo, which is a graphical 'C', is at a random orientation (see image above). It bothers me. I thought it would be nice if it could be, you know, vertically aligned with the strap. However, that's more of an aesthetic issue that others will never know.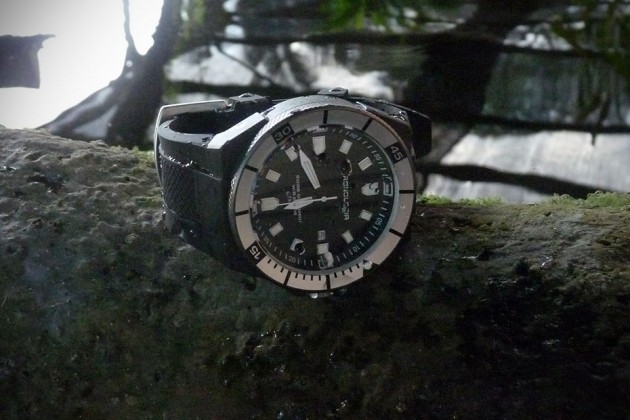 As for the strap, the silicone strap is, well, a silicone strap. The strap looks like a finely molded piece, but upon closer observations, I can see some mold lines on one side of one of the straps, as well as on both the loopers. So budget perfectionist may want to take note and yes, this little guy has two loopers, which provide a just-right fit for the strap and prevents the strap from dangling which can be a nuisance during activities like diving around corals.
One looper is held in place by a quad of protrusions on the strap (albeit not very rigidly), while the other is free to move along the strap. There is a subtle pattern that runs through the length of the strap that helps to break the monotony and gives the watch a more textured look. The buckle and tongue are of stainless steel and engraved with Chronologia's branding.
The watch has uni-direction bezel, which works as it should, providing the right amount of resistance as you click it anti-clockwise, plus the knurled circumference also aid in grip while dialling it in. The resistant is important if don't want to find yourself accidentally rotating it when you knocked into something. The bezel has little or no free play which some bezel-sporting sport watches has. To be honest, free play on bezel really gets to my nerves cos' it usually indicates poor built, which is not in this case. And yes, the bezel turns easily even with neoprene or cloth gloves on, though we can't say the same to the crown. But then again, messing with the crown underwater is a big no-no. Overall, I am delighted by the feel of the bezel. Yes, I am a bezel obsessed person.
Chronologia Trigalight Dive Watch comes standard with a rugged carrying case made of tactical nylon, complete with cutouts for the watch and a slot where you will find a complimentary flashlight/laser pointer. There is mesh zipper compartment too, in which you can find the multi-language manual, warranty card, and a cleaning cloth for up keeping the watch.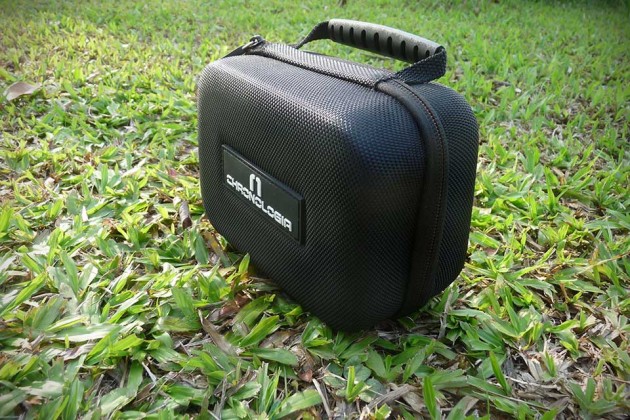 We wouldn't say Chronologia Trigalight Dive Watch is the best budget dive watch out there cos' we did not put it through it paces due to time constraint. But for the quality time I had with it (a day or so), it feels pretty awesome on the wrist and to be honest, the built really surprises me. Overall, the build quality is pretty up there, except for the mold lines and if I dare say, it could easily be mistaken for sub-1,000 dollars timepiece.
Anyways, I soon forget about the mold lines and was enjoying wearing it, and also finding myself checking out time often. Though, you could argue its a new watch and the fondness is inevitable. However, I beg to differ. Personally, I haven't been so excited over a watch since receiving my very own BR-01. Honest words. At 46mm, it is about the right size, at this for my wrist.
So if you are in the market for a watch that can deal with your life's adventure, I think Chronologia Trigalight Dive Watch might just be a good fit. Even if you don't adventure that much, it is a watch that lovers of all-thing tactical will love.
You can pick up the Chronologia Trigalight Dive Watch for a bargain €129 over at Kickstarter, or €218 for the chronograph variety. But those prices are only through Kickstarter and so if you want one, you have to act fast as the campaign has just 4 days left on the calendar. Also, you will need to keep your fingers crossed that it gets backed. Though, we have no doubt you will be able to grab Chronologia at a later date though their website, but Kickstarter is where you find that drool worthy stickers.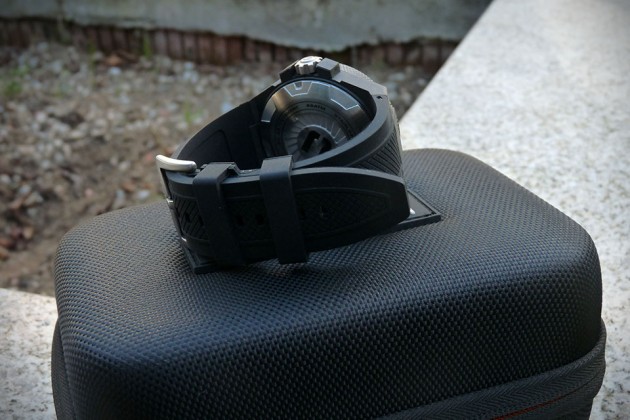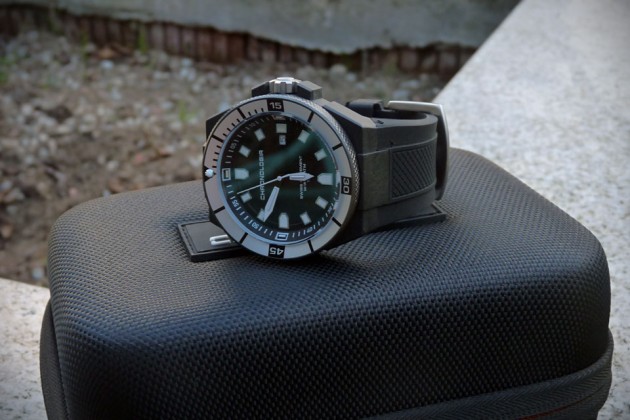 Photos by Mikeshouts