You don't need to be a playing cards collector to appreciate the beauty of Colorado's fifty-three "14ers," which are mountains that peaks at 14,000 feet or higher. And similarly, you don't need to be mountain lover or advocate to appreciate the beauty of Peak Playing Cards. The beauty about these cards is, they won't be assaulting your eyes with colorful, high-resolution images which can easily find on the Internet. Instead, these majestic mountains are presented as illustration, with the back featuring the summit of the a mountain peeking through the clouds and bathed in rays of sun, or shining stars. Having said that, the deck is available in a choice of Day Deck or Night Deck, which explains the sun rays or shining stars that you will be getting.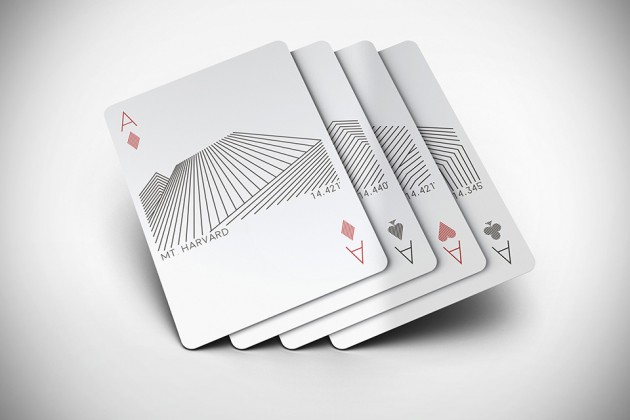 Peak Playing Cards' fifty-two playing cards and a Joker each sports a custom illustration of one of 14ers' peak, along with the name of mountain it is associated with and its elevation. The illustration uses thin lines exclusively to represent each peak, thus resulting in a clean and uber minimalistic look. There is another custom designed Joker card featuring Red Rocks and oddly, a blank card is also included, which its creator Karl Larson said, is for you to draw a replacement in the event you lose a card. Pardon us for our ignorance. We never knew playing cards have such a provision. Not that we are bothered by it; we merely find it 'refreshing'. However, it would be nice if there's a guaranteed (and free) one-card replacement deal instead.
Peak Playing Cards is currently on a mission to gather funds on Kickstarter, where you can help to bring it to life by backing the campaign. A pledge of $15 will secure yourself a Day or Night deck, but as always that will only hold true if the project reaches or surpasses its set funding goal in the next 24 days or so.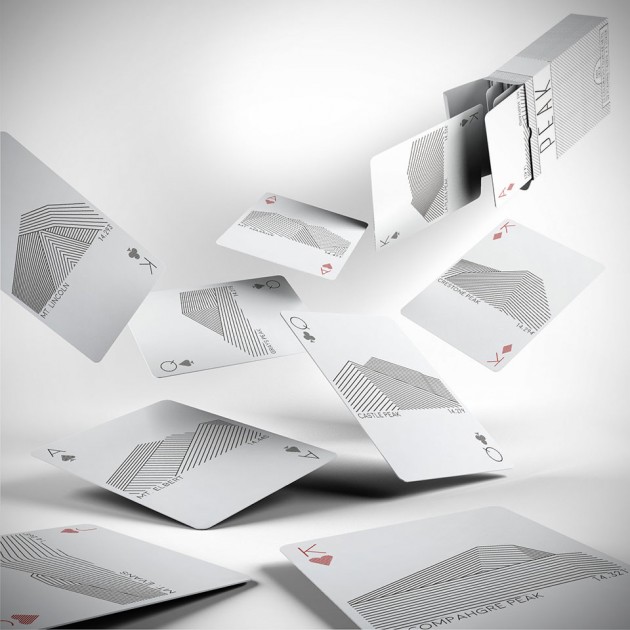 submitted via TIP US page.