If you broke something and wish to 3D print that part, you surely don't expect yourself to be drafting the entire part on a CAD program, right? This is where 3D scanner will prove to be helpful; it lets you scan a solid object which it can then be 3D printed, much like copier machine does, but only in 3D. Though, 3D scanner can be a bank-breaker, which means not everyone can afford to do the 3D 'photocopying' right in their homes. However, Jason Smith (the same dude behind the super rad Rayger Party Lights) and his team wants to change that.
They have created an ultra-affordable, open source 3D scanner so that this technology can be in the homes of average folks. Based on the open source BQ Ciclop created by Spanish tech company BQ, CowTech Ciclop, as it is called, is a self-assembled 3D scanner. The standard kit comes with all essential, non-3D printable components like lasers, stepper motor, webcam, acrylic parts, CowTech-designed Arduino shield, Uno development board, power supply, USB cord, et cetera for $99, while the rest of the plastic parts have to be 3D printed by yourself. In this way, CowTech managed to drive the cost down so it can be really affordable as it promised.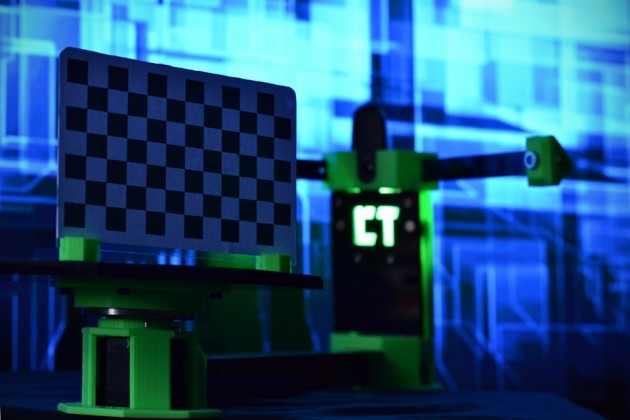 As a thoughtful touch, the 3D printable parts are designed for a print bed volume of 115mm x 110mm x 65mm (4.5 x 4.3 x 2.6 inches), so there's worry about your existing 3D printer's size. Features you can expect from this self-assembled, open-source 3D scanner includes 0.5mm scan resolution, adjustable scan time (2-8 minutes), magnetic back cover, laser cut and engraved acrylic parts, 50 percent print time and 33 percent less filament required as compared to BQ Ciclop, and it is of course, open-source, so tinkerers can work on it however they see fit.
CowTech has taken the campaign to Kickstarter where you can help CowTech realize the dream of an uber affordable 3D scanner by pre-ordering a standard kit for 99 bucks. The campaign will end in 39 days and if all work out as planned, you can expect to see the kit arriving at your doorstep in April 2016. You can learn more about CT Ciclop in the video below.
submitted via TIP US page.