Clearly, not everyone thinks that the already super stretched A8 L's 17.3 feet (5.27 meters) is long enough. An anonymous (and obviously wealthy) customers in Europe is one such person who proceed to order an Audi A8 L Extended that stretches a cool 20.9 feet (6.36 meters) that bumps the original 10.24 feet (3.12 meters) wheelbase to an extra roomy 13.8 feet (4.22 meters). The extra meter-plus length results in two extra doors and a third row of seats that, unlike a typical limousine, is not facing each other, which is kind of odd if you ask us cos' the prime reason for opting for limousine is the legroom offered by face-to-face third and second row seats and the ability to communicate with each other while sipping on chilled champagne.
Speaking of champagne, the third row has a cool box for such purpose, along with a Rear Seat Entertainment display – both which can be found at its continuous center console. The six seats are wrapped in velvet beige Valcona leather as the requisite luxury touch. To counter the darker interior brought about by a longer body and to create a sense of openness, a 7.9 feet (2.4 meters) glass panel was added to the roof. Sun blinds are in placed for both rows to keep the interior from heating up from the harsh sun. As per the European law with regard to long vehicles, small side marker lights are included in the headlamps and taillights.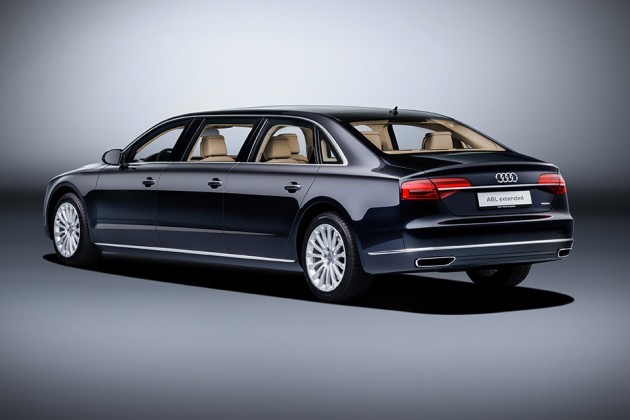 Under the skin, the A8 L Extended shares the same lightweight Audi Space Frame, but with extruded aluminum to extended side sills and center tunnel, while profiled tubes and cross braces further enhances the torsional and flexural rigidity which Audi said is "almost on par with the A8 L." Though based on the A8 L, it is not the 4.0L that's under the hood; instead, this custom limo is moved along by a 3.0 TFSI, delivering 310 horses and 324.5 lb-ft (440 Nm) of torque which it is then put to all four wheels via an eight-speed tiptronic.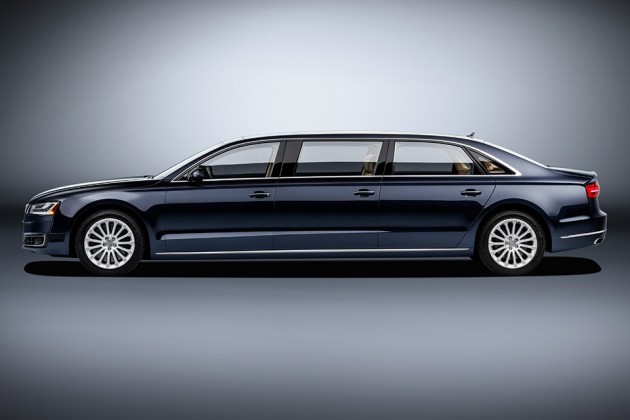 As you might have imagine, with the new found heft and considering the power and torque the 3.0 TFSI has to offer, this stretched luxury monster isn't going to be lightning quick, but it isn't a slow poke either; putting pedal to the metal will haul this 5,330.8 lbs (2,418 kg) vehicle from 0-100 km/h (62 mph) in 7.1 seconds, sending it own its way to an electronically limited top speed of 155 miles an hour (250 Km/h).
Sure, 7.1 seconds may not be something to shout about in today's context, especially one coming from Audi, but it is still way faster than most cars and besides, whoever will be driving it is probably in the employment of whoever bought this vehicle and surely the boss ain't going to be happy with him drag racing somebody at the light and the boss most certainly did not expect him to cruise at 155 mph.