you guys know our stand on electric vehicles. we love the idea, but can't make ourselves embrace the whole electric-powered concept totally because range and recharging time are big issues. until those two 'pressing' issues are resolved, our bet is still on the good'ol fossil fuel burning variety that promised lower impact to the environment, such as the EOLAB presented by Renault. EOLAB is still a prototype, but what it promises do raise our eyebrows, well, in a good way. for starter, it boasts a NEDC combined cycle consumption of just 1 liter per 100 km (that's a cool 235 mpg), which equates to about 22g of CO2 per kilometer. lower fuel consumption means a relieve to your wallet and at the same time, gentler on the environment in both usage of fossil fuel and also emissions. so how did Renault managed to pull this astounding economy? the automaker puts their energy on three key areas: aerodynamic, weight and drivetrain.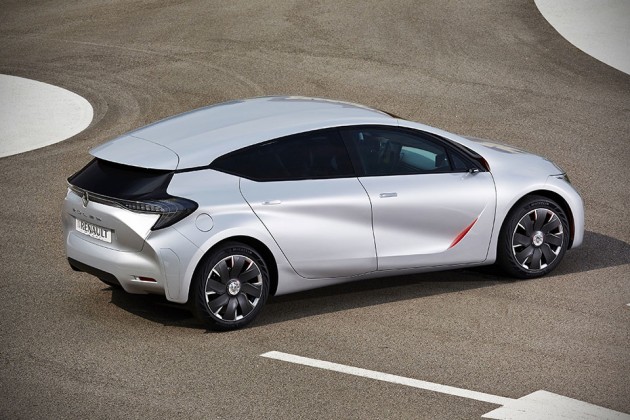 the aerodynamics on the EOLAB is meticulously honed to achieved a CdA of 0.470m2, which is a measurement of the vehicle's front section in square meters multiplied by the drag coefficient (Cd). this translates to 30 percent aerodynamic improvement over typical B segment cars like the Clio IV. tweaking the aero is a tricky business as it has to be done without sacrificing interior space and one that Renault achieved with the help of active systems, including active spoiler on the front bumper that lowers by 10cm when traveling over 70 km/h, aerodynamic vertical flaps at the rear bumper that open by 6cm, activated at speed in excess of 70 km/h, to ensure as much as airflow stays adhered to the vehicle, and finally, temperature sensor-equipped active wheels that allows the wheel to be fully covered when brakes need not to be cooled, thereby achieving maximum aerodynamic efficiency whenever possible. the prototype also has narrower tires developed by Michelin – just 145mm wide – and together with optimized casing and tread, reduces the rolling resistance by 15 percent.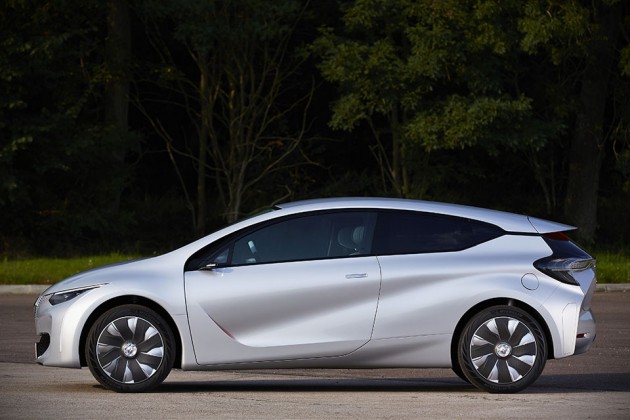 on the weight reduction aspect, three areas are covered: the body, powertrain, and trim and equipment. instead going all-out aluminum and/or carbon which will be costly and contradicts the philosophy behind this concept, EOLAB has a multi-material body shell, consisting of steel, aluminum, magnesium and plastic composites. the drivetrain and the trim and equipment also receives its fair share of weight shaving including lighter running gear, improved brake system (hence, smaller rotors required and et cetera) with more efficient (and lighter) bearings, electric parking brake for drum brakes, thinner and lighter glass, and lighter seats and fittings. all told, the EOLAB achieved a weight saving of over 400 kg (882 lbs), tipping the scale at just 955 kg (2,105 lbs).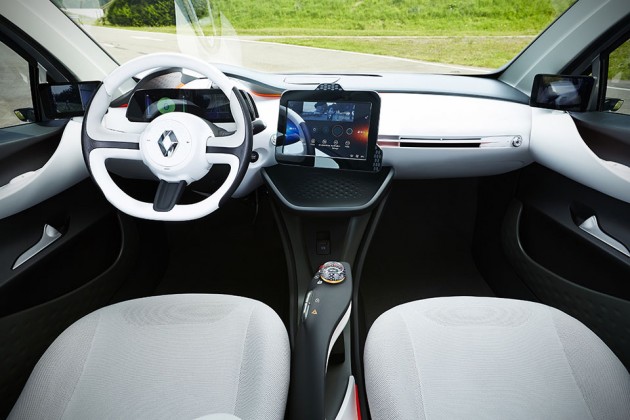 finally, there's the drivetrain, which the EOLAB is fitted with Renault's Z.E. hybrid powertrain. the hybrid setup consists of a 999cc three-cylinder petrol engine, pumping out 75 hp and 95 Nm (70 lb-ft) of torque, and an axial flux permanent magnet electric motor that's capable of delivering 50 kW and 200 Nm (148 lb-ft) in an instant. the electric drive is juiced by a 6.7kWh lithium-ion battery. the power plant is mated to a clutch-less three-speed gearbox with the first two ratios mated to the electric motor, while the third is hooked up to the petrol engine. all in, the three ratios afford nine different combinations for the electric and hybrid models combined.
Renault did said that the idea of having such a car (EOLAB) being produced in large numbers within the next 10 years "was dialed into the plan from the very start", which we assume it will be made in future but probably not as what we have seen now. while there's no firm word if this EOLAB will ever see the light of production, rest assure that its underlying innovations and technologies are destined to be carried over gradually to vehicles averilable in the showroom and in future Renault cars.