i am sure we can all agree that the word 'beast' is hardly an apt association with electric bicycles. beast is synonymous with aggressive and ferocious behaviors, which means when you have an electric bicycle named so, like this The Beast Electric Bicycle from Canadian firm Daymak, you have a lot to live up to. namesake aside, The Beast is indeed one of the rare electric bike that is designed to take on both paved roads and the beaten tracks. thanks to its fat 8-inch tires, The Beast is totally at home on the streets or the beach and the off-beaten trails. but off-road capability is just part of the story. most importantly, it is solar-powered, allowing the ride to be juiced as you go about your daily routine or expeditions in the wild.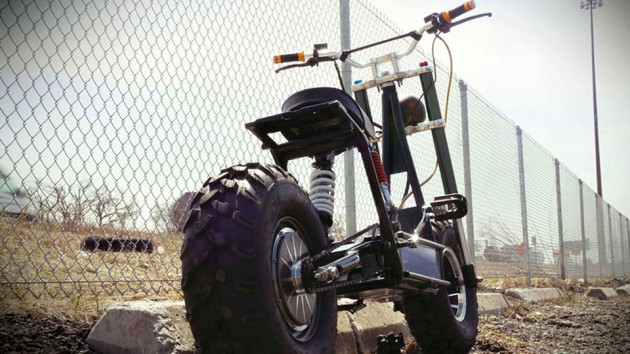 located in the middle of its stretched wheelbase is an innovative solar battery pack that charges at around 1 km/hr in any type of daylight condition, be it cloudy or sunny. the best part is, it is removable and therefore it can double as a backup power supply in the event of emergency. heck, you can even lug the pack along and leave it on the roof top or balcony to be charged while you are at work. it even has a pair of USB ports to keep your portable USB-powered devices such smartphone or laptop juiced. though it is solar-powered, a conventional charger is also supplied in case you need to get the battery packed at a faster rate. there are three models of The Beast: standard, deluxe and ultimate.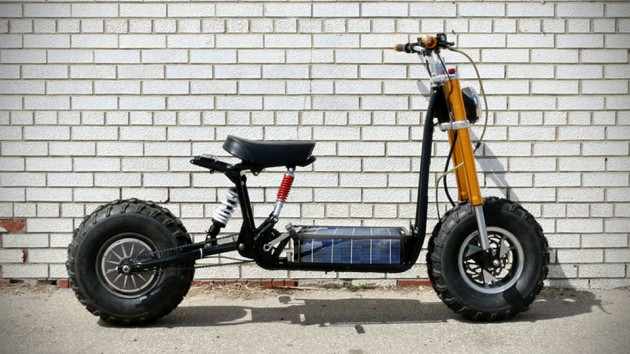 depending on the model, the spec-sheet may includes up to 60V20AH lithium battery, up to 500W BLDC motor, built-in torque sensor, inverted adjustable shocks, alloy frame, and LED headlamp. as for performance, the range-topping iteration tops out at an impressive 20 mph (32 km/h) and has a range of up to 28 miles (45 km). Daymak has decided to take on the crowdfunding route to get The Beast off the ground. it is now on Kickstarter where you can pre-order yours for $1,079 CAD and up. as always, the fate of The Beast lies in whether the campaign will be able to hit its set funding goal. it is true that a grand for an electric is rather pricey, but one that eliminates the worry about battery lifespan is something worth taking into consideration. keep going for a pitch video to see The Beast in action.