Finally, the galaxy far, far away is converging with the rest of Disney's world, joining Disney, Disney Pixar and Marvel in Disney Infinity 3.0 Edition. Billed as the best-selling "hybrid toy/video game" of 2014 (to be fair, there isn't a lot of such genre around, just saying…), the Disney Infinity 3.0 Edition Starter Pack is set to hit the stores this Fall for $64.99 and will be on major gaming platforms including PS4 and PS3, Xbox One and Xbox 360, Wii U, PC and iOS and Android devices. According to John Vignocchi, Disney Infinity's VP of Production, some retailers are already taking in pre-orders as we speak, while others will be doing the same in the coming weeks.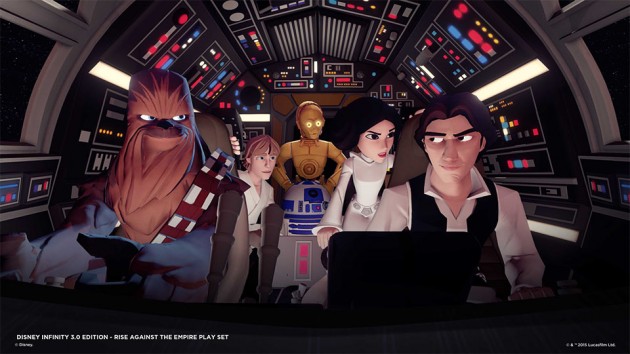 Each starter pack includes the Disney Infinity 3.0 Edition Base, as well as video game software, the Star Wars: Twilight of the Republic Play Set which set in the Clone war period and featuring Ahsoka Tano and Anakin Skywalker character figures. It will also come with a web code card that unlocks content for PC and mobile devices. 3.0 as a whole will feature three Star Wars Play Sets, including the aforementioned Star Wars: Twilight of the Republic Play Set, Star Wars: Rise Against the Empire Play Set and a third one, which will be based on Star Wars: The Force Awakens, will be available this winter. Other Play Sets with distinctive gameplay and environments will also be offered (sold separately, naturally), including one that's based on the upcoming animation Inside Out, and one Marvel Play Set featuring Hulkbuster, Ultron and other Marvel characters.
Also joining 3.0 will be good'ol Disney characters like Mickey and Minnie, Mulan and Olaf – just to name a few. And oh, also Sam Flynn and Quorra from Tron: Legacy will also be joining 3.0. Quite an odd mix, if you ask me, but then again, where else in the gaming world you can get all the biggies in one game? Keep going for the 3.0 Edition game trailer.